Hey y'all.
I was planning to do this earlier today but I totally forgot because I AM HIGHLY ORGANIZED.
But anyway. Think of this as a little mid-day bloggy fun.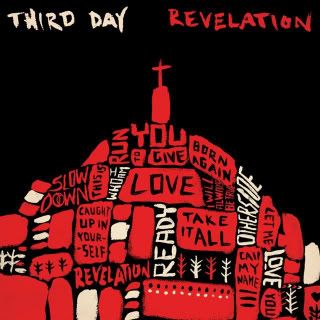 Third Day's latest (oh-so-awesome) CD, Revelation, hits stores today. And to celebrate that, Melanie, Carlos and I have a golden opportunity for you to win some stuff.
Some Third Day stuff.
I'm guessing you probably figured out that last part by now.
So.
If you'd like to a chance to win a copy of Revelation as well as a t-shirt autographed by the members of the band, leave a question for Third Day in my comments. You can ask them about music, about faith, about whatever.
Well, maybe not about math. I can't fathom they'd want to answer questions about math. But maybe I'm just bringing my own personal math-related baggage to the Q&A table.
Anyway. Leave a question. Mark from Third Day will pick five of them (and five from Mel's comments, and five from Carlos' comments) to answer on his blog on August 18th. And EVERYBODY who leaves a question will be entered into the CD / t-shirt drawing. If you want to enter the drawing three times, just ask a different question at each of three participating blogs.
There. I believe that's all.
Rock on.