All righty. I'm going to be totally up-front with you, internets.
Earlier this week I came thisclose to cancelling this Before & After bloggy shin-dig. But I felt guilty about doing that because I know several of you have worked hard to meet deadlines and finish projects and do all the things that I thought I would do when I first posted about this little carnival way back at the beginning of the summer.
But several things have gotten in the way of all my fancy home-beautification plans. First and foremost on that list would be me. I have big ideas and think I have plenty of time and don't take into account that, in addition to my day-to-day responsibilities with my family, I have things like travel commitments and work deadlines that also demand my attention. Plus, for the last couple of weeks we've had some family members staying with us while they've had some medical stuff going on, and really, nothing says, "WELCOME! HOPE YOU FEEL BETTER SOON!" like a house that reeks of paint fumes.
Which is to say: I decided to postpone the painting.
I guess it's just that the squeaky wheel gets the grease. And in light of everything that we've had going on around here, the color of the paint in our bedroom just hasn't been very squeaky.
However.
I did, in the spirit of the festivities, take care of a LITTLE something that's been driving me cuckoo the last few weeks, and that something is my closet. It's been driving me insane because it was 1) messy 2) unorganized and C) messy and unorganized, so I took everything off of the shelves and hung up all the stray bits of clothing that were strewn about, then I threw out some junk and put everything back together again.
Sort of like Humpty Dumpty, only not.
Anyway, here's the before: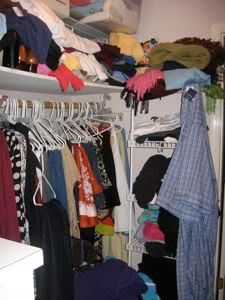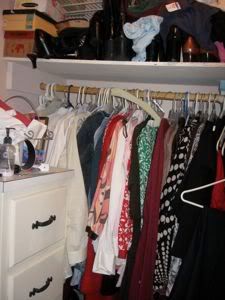 And here's the after: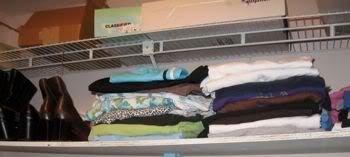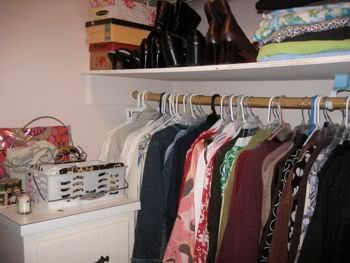 STUNNING, ISN'T IT?
Nonetheless, there you have it. It's certainly not the dramatic ENTIRE ROOM TRANSFORMATION that I originally envisioned, but it's progress. And I'll take it.
I can't wait to see your progress, so if you have a project you'd like to share, just leave a link to YOUR SPECIFIC POST – NOT YOUR GENERAL URL – in the Mr. Linky below.
Thanks for playing along, everybody!