Now I know it's only the beginning of November, but in case you're a planner, I thought you might like to have some basic info on this year's Christmas Tour of Homes.
First, the code for the cute button Shannon made:
Second, here's what the button should look like if you add it to your blog: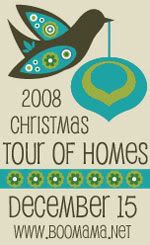 Third, the details, which are the basically the same as they've been the last two years:
I only ask a few things of you if you plan to participate in our humble little tour:

– That you actually post pictures of your holiday decorations (and by all means, if you celebrate Hanukkah and not Christmas, please join us).

– That you don't mock the season. Or the Reason. Or the people who are participating, oh thank you.

As for what kind of pictures we're going to post…well, I'm thinking pictures of your tree…pictures of a particular collection that you love…pictures of your favorite nativity scene…pictures of your front door…and pictures of your outside decorations if you'd like to share them. Show us your favorite traditions.

So basically, you know, whatever.

And really, it's only fair that you should provide some refreshments (I mean, you ARE inviting us over and all), so I think it would be great fun if everyone posted his or her favorite quick and easy holiday recipe along with the pictures.
And if you're wondering how this works, it's pretty simple. You'll put up your Christmas Tour post on your blog on the 15th, then hop over here and leave your link on the Mr. Linky. Once you leave your link, you can start clicking through the list and visiting other people. It's like an Open House, but since it's on the internet you get to experience the Open House while you're wearing your pajamas and eating chocolate.
And maybe even drinking some egg nog.
I for one cannot imagine anything more delightful, except that I don't like egg nog, but I will not let that damper my enthusiasm.
Can't wait to deck the halls with y'all!
*****