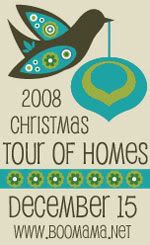 Hey, internets – welcome to the 2008 Christmas Tour of Homes!
I'll go ahead and confess to y'all that I panicked a little bit last week when I realized that this tour-o-homes business was on the horizon and, HELLO, MY HOUSE LOOKS JUST LIKE IT ALWAYS DOES AT CHRISTMAS, OH SWEET MERCY THE PRESSURE.
But then I remembered that there are a few little traditions that I've never shared with you, and as you can imagine my relief was palpable.
First, though, let's look at all the stuff that looks just like last year!
THIS MUST BE SO EXCITING!
And with lights!
Oh, we are very fancy. And once again I can take absolutely no credit at all for my tree, because Mama decorated every single bit of it. Thankfully she didn't take any tree-related tumbles this year, though the decorating was briefly interrupted by a pesky stomach virus. Obviously she rebounded and finished the task at hand remarkably well.
As always I decorated the bar in our living room. For those of you who aren't familiar with why there's a bar in our living room, here's the gist: our house was built in 1974, and apparently early-70s homeowners felt it was imperative that beverage service be located within ten feet of the television. For whatever reason I get a kick out of the fact that the wet bar now boasts garland, lights, Christmas stockings, and a one-armed monkey stocking hanger.
See? That's our one-armed monkey stocking hanger. The monkey used to have two arms, but then he tied up with a certain two year-old a few years ago, and the two year-old won. The monkey still does an absolutely beautiful job holding a stocking, though, and I smile every single time I walk past him.
(He's also completely broken in two at the waist, so it stands to reason that he could use some encouragement.)
Our Christmas card tree – which is a 6 1/2 foot tree that we got for free and now use to display Christmas cards in the playroom – is one of my favorite traditions. It brings me untold delight, especially around December 24th when it's chock-full-o-cards.
And, as always, I LURVE me a festive table.
For the last several years I've put my parents' aluminum Christmas tree (from way back in ye olden 60s) in our little boy's room. He loves it because it's shiny (it's also very lean-y) and because we put Mickey Mouse lights on it. All the ornaments on this tree are from my childhood – my brother's elves, my sister's carolers, my handmade stuff from Sunday School and kindergarten – and it's so much fun to see how much the little man enjoys it.
And another fun thing in his room? This giant stocking hanging from a curtain rod.
In the past I've always done garland and lights outside our front door, but this year I wanted to do something a little more simple because, well, I just wanted to do something a little more simple, AS IS MY PREROGATIVE AS A FEMALE, OH THANK YOU. So I found this cool iron container at TJ Maxx for $9.99, and I filled it with some pieces of a shrub that's in our backyard.
And just to clarify for all you gardener people, I believe that the Latin name of the greenery I used is shrubae in our backyardae.
Be sure to look for it in your favorite horticulture journals.
The container tends to clang against the front door when people walk in or leave, so it also works as a bell. Who knew my $9.99 would provide me with a container for greenery and an entry notification system? I'm completely undeserving of such good fortune.
Finally, when we were visiting my brother and sister-in-law last weekend, I was totally captivated by the Nativity scene they have in their foyer – and I took a picture of it just for y'all. Because I love how every single creature in the stable is looking at the manger and anticipating the arrival of Jesus.
May the same be true of us, sweet friends.
Thanks so much for joining in the fun today – I hope you have a great time touring and commenting and visiting and whathaveyou. Remember, as I've said before, this is a marathon, not a sprint, so PACE YOURSELVES, PEOPLE. Drink lots of water, eat lots of protein, and please, as always, no wagering.
Oh, I kid. But y'all make this so much fun, and I am grateful.
Four quick things before I go:
– It would be great if you'd leave a comment when you visit the blogs that are participating in the Tour. Even a short comment can encourage someone so much!

– Here's a refresher on Christmas Tour guidelines.

– Everyone who leaves a comment is eligible to win a very special door prize from Engraved Euniques. I'll draw for the prize this Friday, December 19.

– Please make sure to leave a link for YOUR POST'S SPECIFIC URL, NOT THE GENERAL URL OF YOUR BLOG.
Merry Christmas, y'all!