Yesterday Melanie, Shannon and I embarked on a little road trip to visit Ree. Even though the four of us have emailed back and forth and forth and back for what seems like forever, we've never gotten to sit down and hang out and talk nonstop and eat bacon. So yesterday we hopped in the car, drove out to the middle of nowhere, turned right and left and left and right and then drove a bunch more miles. Then we waited for a horse to cross the road. And then we drove a little farther. And when we finally caught our first glance of this wide expanse of land, we gasped.
Seriously. I still have not found the words to describe how gorgeous it is. But when I find the words, I will share them.
Anyway.
Last night Ree told us that we were going to get up early today, "work cattle" and maybe even ride a horse if we wanted to. Melanie was all about some horseback riding, but since the last time I rode a horse my forehead had an unfortunate mishap with a tree limb, I decided that I'd pass on the horse-related activity. Shannon agreed. So we both woke up this morning after Melanie left to make her acquaintance with Peso The Wonder Horse, and we donned our ranch-y shirts and blue jeans. While we hummed "Oklahoma."
Because cliches are important to us.
Oh, and I should also tell you that last night, when one of Ree's daughters told Melanie that she was going to be riding Peso today, I misheard the horse's name as "Queso" and spent the better part of twelve hours absolutely delighted that Melanie was going to get to ride a horse named Cheese.
If I ever write a book set in the Wild West, I think that will be my title: A Horse Named Cheese.
Anyway, Ree picked up Shannon and me around 6:30 this morning, and we rode out to a pasture where there were a lot of cowboys and lo, even more cows. As soon as I saw Melanie I knew that her horseback riding experience had left an indelible imprint on, well, the top half of her legs, but she perked up when she realized that I had her sunglasses with me (I'd impulsively picked them up on my way out the door because it was so stinkin' bright outside). Apparently even cowgirls need their tortoiseshell Jackie O shades.
For the next couple of hours we watched the cowboys (and Missy!) brand and vaccinate calves. We tried to stay out of the way and in the blessed shade, but the whole process really was fascinating. Those men work HARD – I mean, they essentially wrestled livestock for the better part of the morning, and it was so evident within the first five minutes that they absolutely love what they do. It was hot and they were covered from head-to-toe in I-don't-even-want-to-think-about-what, but they were a happy bunch. So were the kids. And everybody was so nice to us, especially considering that my obnoxiously large sunglasses coupled with my Adidas tennis shoes practically screamed, "HELLO! I AM A TOURIST FROM ANOTHER PLANET! I HAVE COME TO WATCH YOU WITH YOUR COWS AND YOUR HORSES IN YOUR PASTURES!"
I tried to take lots of pictures, but let me tell you: it is HARD to take pictures of cows. There's virtually no shade in the middle of the pasture, so the sun beats down on everything and creates a glare and renders my little point and shoot camera pretty much useless. Plus, cows move. They move a lot. So I have a new level of appreciation for Ree's photography, because suffice it to say that I didn't really get the same results that she does.
For example.
Stunning, isn't it?
Oh, I do have a gift.
There was so much memorable stuff about the morning – the sound of all that cattle, for one thing, because WHO KNEW THAT COWS WERE SO NOISY – but I think what I loved more than anything was just watching how everybody interacted, everybody helped out, and everybody managed to have fun doing some seriously dirty work in the midst of some seriously mind-numbing heat.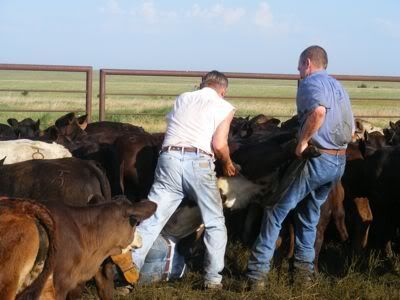 And the kids found a baby turtle.
And somebody was maybe a little on the sleepy side when he put on his boots this morning.
And finally: do you think I could fit this little one into my luggage?
Because if so, I'm totally taking him home.