This is a compensated review by BlogHer and HP.
A few weeks ago I got an email asking if I'd be interested in reviewing a new HP TouchSmart 600 computer. And yes, I was interested, because I am a nerd and always terribly entertained by anything that plugs in and has a screen, but since I'd never seen the TouchSmart before, I had a mental image of a big, clunky desktop coming into the house. Besides that, we haven't owned a PC in about ten years, and part of me wondered if accepting the HP was some unforgivable act of Mac betrayal.
But then I remembered the 10 year-old Mac desktop in my office (that, bless its heart, can't run more than two applications at a time before it starts to wheeze), and I got over my reservations. BRING ON THE HP.
The new TouchSmart arrived a few days later, and y'all, I cannot tell you how impressed we have been by this computer. We love it. It looks great (do you see how skinny it is?), and when David was setting it up, I actually asked him where the rest of it was. It's essentially the same size as a flat-screen TV. In fact, it can work as a TV – you just plug in your cable and you're good to go. It can also work as a DVR (CAN I GET AN AMEN?) or a BluRay movie player. There's even a remote. Be still my heart.
And I wish y'all could have seen my husband's reaction when he realized that you can mount the TouchSmart on the wall. Suffice it to say that his eyes lit up and then glazed over and I thought for a brief moment that he might need to sit down and put his head between his knees.
We started using the TouchSmart approximately 53 seconds after we set it up, and while I didn't know how much I'd use all the bells and whistles in our day-to-day routine, I have to say that the touchscreen features are actually my very favorite part. Besides the fact that it makes me feel like Tom Cruise in "Minority Report" when I move my finger around the screen and resize pictures and create collages and pretend like I'm some sort of technological wizard, it's just so EASY. I can write notes, save recipes, browse the web, play a movie via our Netflix account, laugh at something on Hulu, listen to my Pandora playlist, edit photos and so much more – all without touching a keyboard or a mouse. The computer HAS a keyboard and a mouse, of course (they're wireless!), and you can use them with any of the TouchSmart applications – but once you get the hang of the touchscreen, it's oh-so-convenient and fun.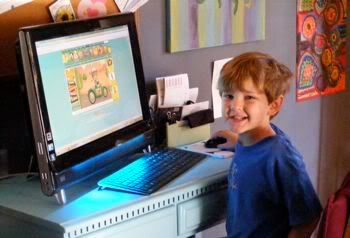 I really could go on and on – about how Alex loves it, about how the touchscreen is COMPLETELY intuitive for a child, about how I adore the Recipe Box feature that lets me add any recipe I happen to run across on the web and will even READ THE RECIPE OUT LOUD TO ME while I cook. But I'm going to quit talking now because we need to get this giveaway started. I think it's time.
So.
If you'd like to win an HP TouchSmart 600 computer, leave a comment below and tell me where you'd put the computer if you won. Family room? Office? Playroom? Kitchen? Inside Mama's closet where NO ONE ELSE CAN TOUCH IT? On top of a thrift store desk that you overhauled with turquoise spray paint?

Or, if you'd like, you can leave a comment with a link to a post about the HP on your blog.

And whatever you do, please make sure that your email address is correct.

This contest will begin December 9th and end December 24th.
Before I forget:
1) If you'd like more information about this computer, just click on over to HP's official site.
2) Rules!
• No duplicate comments.
• You may receive an additional entry by linking on Twitter and leaving a link in the comments.
• You may receive an additional entry by blogging about this contest and leaving a link in the comments.
• This giveaway is open to US Residents, aged 18 and older (I'm so sorry, Canada).
• Winners will be selected via random draw, and will notified by e-mail.
• You have 48 hours to get back to me; otherwise a new winner will be selected.
• Please see the official rules here: Official Rules.
The winner will be selected using random.org.
Also, there are four other bloggers giving away the HP TouchSmart 600 (that means there are five free computers up for grabs, people), so check out the BlogHer.com special offers page for links to their sites. You can enter to win on all five blogs.
Happy TouchSmarting, everybody!
Thursday 12/10 at 8:40pm – comments seem to be working just fine again. Thanks for your patience!
This giveaway is now closed.