I was by myself for part of this past weekend because D and Alex went on a little father/son camping trip. I could pretend to be sad that I didn't get to camp, too, but I think we all know that that would be a lie. I prefer to sleep indoors, thankyouverymuch, but I was just as tickled as I could be to see my fellas load all their gear into D's truck and head off for an adventure in All The Nature. Personally I most enjoy the nature when there is some sort of glass partition separating me from the bugs and also the heat, but I knew Alex would have a blast. And he did. TOTAL FAN of the camping, he is.
Sister and I had talked about driving over to Starkville for the game against Arkansas since I was going to be footloose and fancy-free, but Friday morning I knew as soon as I got out of bed that I was way too tired for a road trip. It was a crazy, busy, sleep-deficient week, and a Saturday with nowhere to go sounded like heaven on earth to me. Turned out that Sister was feeling the same way. So she stayed in Nashville, I stayed in Birmingham, and I made sure my phone was fully charged so that we could text away during the game.
The game started with State jumping out to a 7-0 lead, and since I was all alone, I felt free to HOLLER LIKE A MADWOMAN. I was as nervous as a long-tailed cat in a room full of rocking chairs, so about mid-way through the first quarter I started cleaning our den. There was a point in the second quarter where we hit a little lull and Arkansas was winning 14-7, so I sent Sister a text that said, "Can we fake a punt or something?"
AND Y'ALL – SECONDS LATER – WE TOTALLY FAKED THE PUNT.
It was like I called it into being.
Look!
After that I was ON FI-IRE with the cleaning. Pulled out the vacuum, dusted the furniture, Windexed the glass tabletops, used the Swiffer Wet stuff on the floors. OUT OF CONTROL. By the half the 'Dogs were up 21-17, and I moved to the kitchen in search of new surfaces to scour.
I AM NOT AT ALL NORMAL.
The Razorbacks went up 31-21 in the second half, but we scored with about four minutes left in the game to cut their lead to three. We kicked off to them, and I sent Sister a VERY DRAMATIC text: "WE NEED A FUMBLE."
Two plays later Arkansas fumbled and we recovered.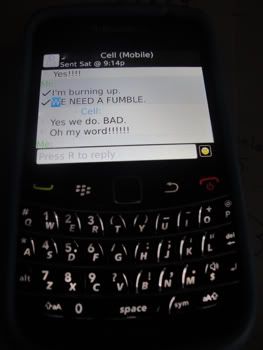 I can't explain it. It's a gift, much like being able to recognize the subtle differences in Popeye's and Bojangle's fried chicken. And for the record, I have never in my life screamed like I did when we recovered that football. I kept alternating between wishing my people were home so that we could celebrate together and being so, so grateful that they were camping and therefore spared the spectacle of my crazy.
The next minute and a half was insane. State had no time-outs left, but we kept moving down the field. Finally, with 14 seconds on the clock, our field goal kicker nailed a 25-yarder that sent the game into overtime. And my phone went cuckoo in the best possible way.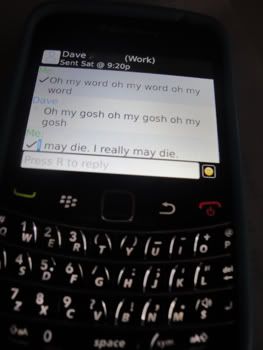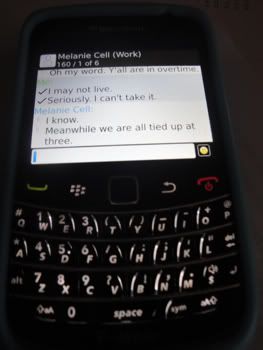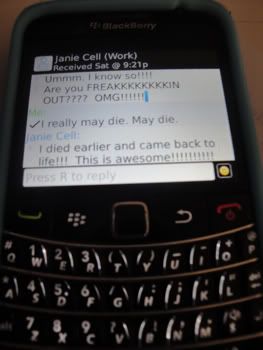 The recurring theme in all of these texts, of course (besides the fact that my friends are awesome), is my certainty of imminent death. I really wondered if my heart could take it. I thought about turning off the TV, waiting 30 or so minutes and then checking the internet for the final score. It was too much. It was all too much.
In the end I decided that not even the threat of some sort of cardiac malfunction could keep me away from the television. In the first overtime we fumbled and Arkansas missed a field goal. Which led to a second overtime. And in the end, Arkansas prevailed and won 38-31. If I hadn't been such a wreck during our last possession, I would have sent Sister a text that said, "WE'RE GOING TO SCORE A TOUCHDOWN AND MAKE THE TWO-POINT CONVERSION."
Clearly that would have solved everything.
But the ending being what it was, Sister and I wrapped up our texting for the night.
A few minutes later, I heard my phone beep or ding or chime or whatever it does when I have a new message. Here's what was waiting on me from our friend Dave:
It summed up my feelings PERFECTLY. And it made me laugh a whole bunch, too.
Even though I would've loved to have seen our boys get the win, I couldn't feel too disappointed. They played their hearts out, and it really was a whale of a game.
But I learned some valuable lessons, oh yes I did. In fact, I just sent Sister a text about this week's Egg Bowl, when the Bulldogs will head to The School Up North and take on the Rebel Black Bears.
Oh, I know it won't make a lick of difference in the outcome.
But I figure it can't hurt to go ahead and put it out there. Worked for the fake punt and the fumble, after all.
:-)
Go 'Dogs.