Yesterday morning I woke up feeling a smidge overwhelmed.
Yes, I know it was Easter. I was – and am – beyond grateful for that. Thankfully the wonder of the day wasn't lost on me, but some obligations and responsibilites and whathaveyous popped to the front of my mind as soon as my eyes opened. And do you know what I did? I let those obligations and responsibilities and whathaveyous derail me before my feet had even hit the floor.
(Stupid human-ness.)
(It REALLY gets on my nerves sometimes.)
Since our little family was helping with some stuff at church pretty early Sunday morning, the boys left the house a few minutes before I did so that they could run by Starbucks. I finished loading my car with everything I needed, and by the time I pulled out of the driveway, my mood was somewhere between ick and blah. The stresses of the previous three or four days seemed to catch up with me in one fell swoop, and while I was looking forward to worship, I wasn't looking forward to putting on some sort of fake smile-y face AT ALL.
(You had no idea I was going to be such a giant dose of cheerfulness today, now did you?)
(Please know that our regularly scheduled happy fun times will return within the next 24 hours.)
I was about a mile from church when a red light forced me to stop at a big, (typically) busy intersection, and when I quit thinking about the to-do list in my head long enough to notice what was in front of me, I couldn't help but stare.
And the more I stared, the more I smiled. Because the Lord preached a mighty timely sermon to me right there on the edge of Brook Highland Parkway.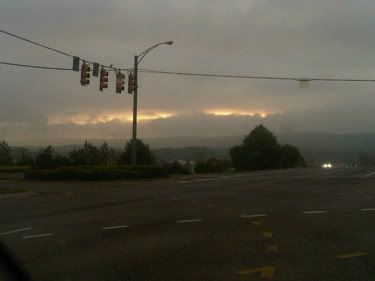 Oh my goodness. It was such a sweet reminder that no matter how we feel, no matter how we hurt, no matter how we wrestle and wrangle and worry, we can count on a very real truth in the midst of our day-to-day challenges:
The Light always breaks through the gray.
Always.
And while yes, the gray might hover over our circumstances from time to time, the gray won't stick around forever. The gray can't stick around forever.
Why?
Because the Light won't let it.
And it's good to remember that. Not only at Easter.
But every single day.
"In the beginning was the Word, and the Word was with God, and the Word was God. He was in the beginning with God. All things were made through him, and without him was not any thing made that was made. In him was life, and the life was the light of men. The light shines in the darkness, and the darkness has not overcome it." John 1:1-5