All righty, everybody. We're in Miami, and quite frankly I'm shocked that we haven't seen Gloria Estefan yet.
I hope that the rhythm didn't get her. But odds are that if it hasn't, it's gonna.
The flight from Birmingham to here was relatively uneventful with the exception of the fact that the heater was on full blast pretty much the whole way. It was basically like traveling in a rapidly moving convection oven, so as you can imagine I was refreshed as could be when we landed.
Honestly, I think that the Lord was preparing me for the Amazon. It'll probably be the same level of heat, only with some spiders and snakes thrown in for good measure. And also a canoe, but we won't talk about that right now since my plan is to stay in deep denial about the whole canoe thing – at least until Friday when it's, you know, inevitable.
When we were about to land in Miami, I looked out of my window (and wondered what is it like out there, in a world where cool air circulates and the heat from the floor doesn't burn the soles of your shoes?), and I saw what I think must have been the Everglades. I'm assuming that it was the Everglades, at least, because it was very marshy and murky and seemingly quite alligator-y. It was also much, much larger than I expected. I always think of the Everglades as being a couple of oversized canals – really just big enough for Tubbs & Crockett to speed through the area in an airboat.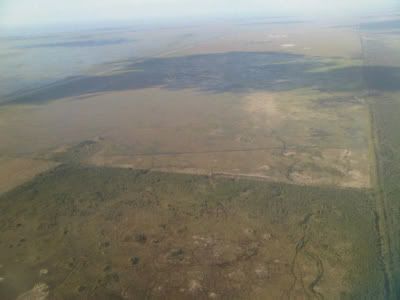 The last of the big huge marshy area is in the far left of this picture. Try not to be impressed by my high quality photography that looks like something I would've taken with a disc camera back in 1984.
And here's another sight I saw right before we landed:
My first thought?
OH! I LOVE THEIR BEANS!
Hold on. We have to board our plane now. I'll be back in a few hours.
*****
ALL RIGHTY. We're in Quito now. We landed around midnight, which means that I need to shut down this computer and get some sleep. Our day starts bright and early tomorrow, and we can't wait to share it with y'all!
p.s. Sadly, I never did see Gloria Estefan at the Miami Airport.
p.p.s. I don't really know why I would see Gloria Estefan at the Miami Airport.
p.p.p.s. I just thought it might be kicky and fun.
p.p.p.p.s. And I bet the rhythm is still gonna get her.
p.p.p.p.p.s. TONIGHT!