Well. I have been to the jungle.
OH YES MA'AM. I have been to the jungle.
But sadly, Axl Rose was unavailable to welcome us there.
And listen. I totally thought about making another map of our route from Quito to the Amazon, but I think that I'd need carpal-tunnel surgery after drawing that many swirly loop-to-loops in a row. It was sort of like riding a roller coaster, only it was a bus ride and way more bumpy and went all the way up to 12,000 feet above sea level and then lasted for five hours.
Also, it would seem that double-striped roads are more of a suggestion in Ecuador than any sort of hard and fast rule. I'm grateful that our bus driver got us to the jungle and back again, mind you, but he executed several passing maneuvers that were Talladega-worthy. To the point that I almost put on some cut-offs and a tank top and sat on somebody's shoulders.
However, the good news is that once we made it off the raceway highway, the canoes and I did just fine. They were mercifully, blessedly covered, and given the level of sunshine and heat, those covers were a gift FROM THE SWEET LORD ABOVE. I told Melanie earlier today that if those canoes hadn't been covered, the group would have had to leave me behind in the Amazon while I attempted to recover from a bout of the sun poisoning.
We actually had to take a canoe to get to the place where we were staying, and when we finally reached our destination and climbed out onto the rocky beach, relief washed over me since the canoe ride was the part of the trip I'd been dreading the most. But then I looked at what was right in front of me, and I realized that there were a lot of steps.
A lot of steps that we had to climb in order to get to the top of the bluff where the lodge was.
And I'm not gonna lie, y'all. I was exhausted, I was hot, and I pretty much wanted to turn around and climb back in the canoe and curl up with my backpack and call it a night.
But I climbed those steps. I also walked up a couple of ramps that, as best as I could tell, were built at about an 80 degree angle. We were all huffing and puffing as we tried to get to the top, and I wanted to look at Shaun and say, "I DO NOT REMEMBER SIGNING UP FOR ANY EXTREME HIKING." Unfortunately, though, saying anything to Shaun would have required me to use precious oxygen that I was not of a mind to waste. What with trying to continue to breathe at a regular rate and all.
After we ate supper and spent some time visiting, Melanie and I went back to our room to try to get some sleep before our big day today. I was totally unsure about how the whole sleep thing would work, especially since there was no air conditioning, not to mention that there were a great many squawk-y jungle animals living outside of our window. But get ready for some irony, my friends: I slept like a baby. I DID. It was my best night of sleep on this trip by far, and this morning I halfway felt like patting myself on the back and then giving myself some sort of merit badge.
After breakfast we headed back to the canoes so that we could visit a couple of Compassion homes in a nearby village. It was an absolutely beautiful trip, and the river was so wide that there wasn't any risk of snakes dropping out of trees and into our boat. It's funny how your idea of what constitutes a SWEET MERCIFUL BLESSING FROM THE LORD ON HIGH changes when you're outside of your normal comfort zone, isn't it?
Eventually we made it to the village, and after a roughly ten-minute hike we walked into an absolutely surreal setting. We were still in the middle of the jungle, but there were houses on stilts scattered around us. Each house was made of wood, with thatched roofs and window openings – but no screens. We split into groups, with Amanda, Kelly and Melanie going to the first house while Ann and I went to the second.
And that's where we met Jonathan.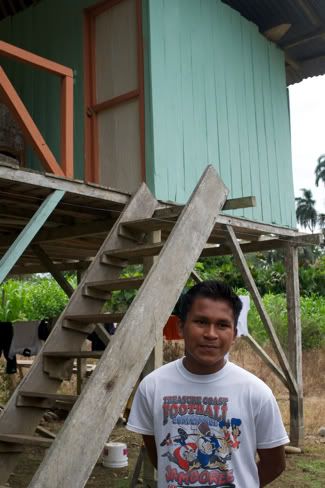 Jonathan is fifteen, a high school student, and thanks to his Compassion sponsorship, he is able to attend a nearby Compassion child development center. At first glance, Jonathan looks like a fairly typical teenager. He greeted us wearing gym shorts and a t-shirt, and while he was a little nervous about speaking to people he hadn't met before, he had a kindness about him that caught me a little off-guard in the best possible way.
And while it would make such a nice story if this were the part where I could tell you that Jonathan's mother welcomed us inside their home, that his father showed us the places where he and Jonathan like to fish together late in the afternoon, that isn't Jonathan's story at all.
Jonathan's story is that his mother left his family when he was four years old. He's only seen her once since then, but he's heard that she has another family now. His father lived in the house for several years, but last year he decided to move to a nearby city in search of more work – and he didn't want to take Jonathan with him. He opted to take "su hijo favorito," Jonathan's younger brother, instead.
So every single day, Jonathan's reality is that his mother left him and his father doesn't want him. Every single day – at fifteen years old – Jonathan wakes up to an empty house. He goes to sleep in an empty house. He cooks, he cleans, and he tries to find ways to bring in some money.
All by himself.
As Jonathan quietly shared bits and pieces of his story with us, tears welled up in my eyes. I started to worry that I was going to go into the ugly cry as I heard about his situation. But then – BUT THEN – I remembered the Hope that Compassion offers the kids that they serve. The pastors, staff members and volunteers look a child's circumstances squarely in the eye, and they counter the despair with Truth. They know that there's no wound in a child's life that's too big for Scripture to touch, to soothe, to heal.
So yes, Jonathan has a tough story. But God has His hand all over that story through the ministry of Compassion in Jonathan's local church.
"My father isn't here."
Father of the fatherless and protector of widows is God in his holy habitation. (Psalm 68:5)
"I go to church on Sundays, and I rush home to see if my father has come to visit, but he doesn't come to see me."
And the LORD will guide you continually and satisfy your desire in scorched places and make your bones strong; and you shall be like a watered garden, like a spring of water, whose waters do not fail. (Isaiah 58:11)
"Sometimes I get very lonely."
Blessed be the God and Father of our Lord Jesus Christ, the Father of mercies and God of all comfort, who comforts us in all our affliction, so that we may be able to comfort those who are in any affliction, with the comfort with which we ourselves are comforted by God. For as we share abundantly in Christ's sufferings, so through Christ we share abundantly in comfort too. (2 Corinthians 1:3-5)
Jonathan, for lack of a better word, is broken. He is hurt. He feels rejected. He said that some nights, just to try to deal with the loneliness, he lies in his hammock and sings songs about God. He said that he looks forward to church every Sunday because it makes the days go by faster. He is a 15 year-old who has a whole lot of healing in front of him.
But the Gospel – as I've heard my pastor say over and over and over again – the Gospel is good. Compassion works through the local church to take the Gospel into remote places (like Jonathan's village). The local church becomes a lifeline for kids like Jonathan because the Lord uses the local church – and the teaching there – to provide community, to provide family, and to show Jesus to children who might not know Him otherwise.
We stayed at Jonathan's house about 45 minutes, and right before we left, we gave him a bag of groceries. Jonathan had almost no food in his house – only three lemons, some salt and some oil. As soon as Ann handed him the shopping bag, he sat down on his bed and began pulling out every single item and placing it on the floor.
And very quietly – almost in a whisper – he said, "I have no words to express how much this means to me. You have no idea."
Every good gift and every perfect gift is from above, coming down from the Father of lights with whom there is no variation or shadow due to change. (James 1:17)
After Jonathan finished unpacking the groceries, we asked if he'd like to travel with us to his Compassion child development center, which was just a little ways down the river (file the last part of that sentence under "things I never thought I'd say," by the way). He said he wanted to go, so we all walked back through the jungle, got back on the canoe, and off we went.
We traveled about ten minutes downstream, and as we made our final turn, we could see them in the distance: children standing on the shore and waving palm branches to welcome us. As we got closer, there was big ole lump in my throat when I realized that those palms, touching end to end, reminded me of the shape of a cathedral.
Jonathan was the first one off of our canoe.
He ran through the cathedral of palms.
He ran into his community.
He ran into church.
And I will pray – and I hope you will pray – that the Lord uses His church to mend Jonathan's brokenness, to speak Truth over the enemy's lies, to make something beautiful from the ashes of a fractured family.
And to show Jonathan how deeply, how completely He loves him.
If you'd like to sponsor a child and be a part of being the church to a child in poverty, be sure to visit Compassion's child sponsorship page. $38 a month makes a world of difference in the lives of kids all over the world.
____________________________________________________
Photos courtesy of the lovely, talented, and oh-so-sassy Keely Scott
To read the rest of the blog posts from Ann, Amanda, Kelly and Melanie you can visit the Compassion Bloggers page.