Nester and Kelly are each hosting a Christmas Tour of Homes right now, and even though I wasn't planning to participate because I didn't think I'd have time to pull a post together, yesterday I thought, Hey! I like Christmas! I like decorations! – and even though my decorations are nothing spectacular, they feel like home to our little family. So I thought I'd share.

This is the tree in our little boy's room. I can take absolutely no credit for it because my mama decorated it when I was in Ecuador last month. But the little man is crazy about it, and I love walking down the hall and getting a glimpse of those lights.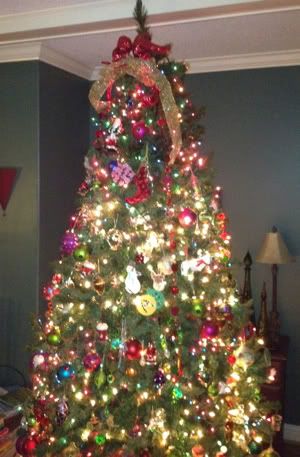 Our tree looks a lot like it always does. For the last couple of years we've had colored lights instead of white lights, and I am a fan. I think white lights are so elegant, but Mama used to put colored lights on our tree when I was a little girl, so I have continued that tradition. Of course, Mama uses white lights on her tree now, but I'm going to stick with the colored lights. It's A MATTER OF CHRISTMASTIME PRINCIPLE, PEOPLE.
Also, I should probably point out that Mama also decorated our main tree while I was in Ecuador. It makes me feel just the tiniest bit like a slacker, but more than anything it makes me resolved to plan a mid-November trip EVERY SINGLE YEAR FOR THE REST OF MY LIFE.
All I'm sayin' is that it was delightful to walk in the house after a week away and find two beautifully decorated trees. THANKS, MAMA!
(Mama doesn't actually read my blog.)
(She's fond of saying that she certainly can't get on the Internet considering that she's not even sure how to "turn on the email.")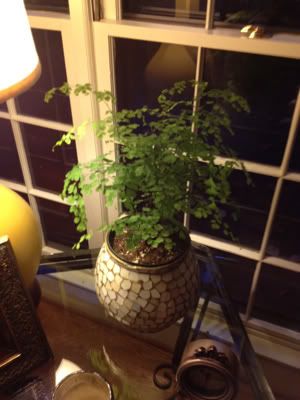 I don't know if this plant actually falls into the Christmas category or not, but I saw it at a local nursery a couple of weeks ago and decided that it needed to live with us. It was in the middle of all the poinsettias and miniature Christmas trees and rosemary shrubs and whathaveyou, so I told myself that it's a Christmas plant and brought it home and the end.

We don't have a mantel over our fireplace (note to self: after five years in this house, it might be time to remedy that situation), so I hang our stockings on the circa-1974 bar that sits in a corner of our living room. It's one of those unique-to-this-house traditions that makes me smile, mainly because it's not really the most typical place to put some stockings ("Their stockings were hung by the wet bar with care / In the hopes that St. Nicholas soon would be there but resist the temptation to rifle through the cabinets and fix himself a hot toddy").
We don't actually have any alcohol in or around the wet bar, mind you, but still: I am tickled by the notion of stockings hanging on a bar. WACKY BAPTIST, I AM.

Last year Alex's teacher asked us to send in 350 strips of fabric, and after I finished breathing into my favorite paper bag that I keep on hand specifically for craft-related meltdowns, I went to the fabric store and waved the instruction sheet in the general direction of a couple of sales clerks while I tried not to panic in the presence of all those notions and needles and specialty scissors. After I bought the fabric, my sister had mercy on me and cut every single one of those fabric strips in approximately seven minutes.
You may be picking up on the fact that my family members tend to stand in the gap for me where Things Crafty are concerned. They understand that, if I'm left to my own devices, any task requiring scissors and/or thread is going to turn real ugly real fast.
ANYWAY (WAS THERE EVEN A POINT TO THIS STORY?), I think the fabric wreath is as cute as it can be, and I hung it on our back door as a reminder that the Lord always sends people to walk with us through difficult craft-related times.
Hallelujah.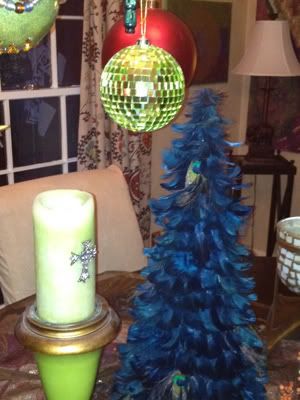 I hung some ornaments on the chandelier in our dining room, and this is a picture of that and also sort of a picture of one of my feather trees. And I don't really know what else to say about that.
HI. WELCOME TO MY CHRISTMAS TOUR. I TOOK SOME PICTURES OF SOME STUFF AND SOME THINGS.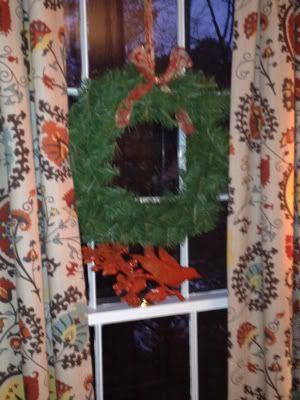 And listen. This is what you call DECORATIONS GONE AWRY. I found that orange bird at a flea market in my hometown, and I wanted to put it in the center of the main wreath in our dining room. But then I realized that attaching the bird to the wreath would require some sort of wire or fishing line or whatever, and I was all, NO THANK YOU, MA'AM, I BELIEVE THE BIRD WOULD JUST LIKE TO REST ON THE WINDOW SILL.
Really, I'm just here to inspire you to reach for the decorative stars. I feel that it's my mission and purpose in life. Go big or, well, just give up and fix yourself a Diet Coke and watch that Selling Spelling Manor show on HGTV because she has ONE HUNDRED FIFTY NINE toy soldiers that she bought at Los Angeles-area Costcos.
FASCINATING.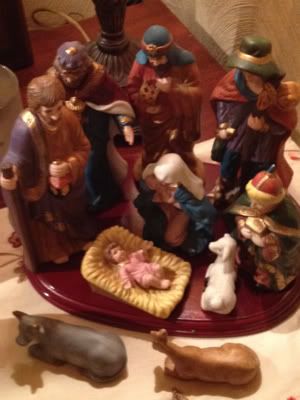 This is one of our Nativity sets. Normally it's spread out a little bit more, but Alex set it up and I just left it alone. I can't decide if the cow and the donkey are feeling anti-social or if they're standing guard over baby Jesus, but either way: DELIGHTFUL.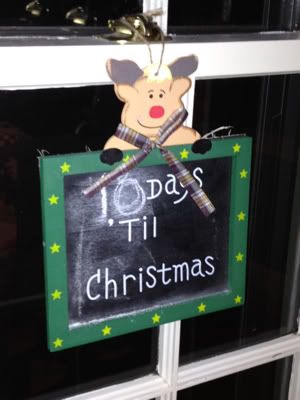 I have a child who enjoys a Christmas countdown, so we have several different countdown items in our breakfast room. One is the chalkboard – a gift from A.'s sweet kindergarten teacher.

I found this countdown placemat at Target right after Thanksgiving, and it's been a huge hit what with the spinny wheel that you use to change the date and all.

This Advent wreath makes my heart melt a little every time I look at it. I ordered it from Ann's son Caleb, and all the profits go to Compassion International. We've been using one candle throughout Advent, but on Christmas Eve, we're going to light 'er up with 24. For me this wreath has been a great visual reminder that with every day of Advent we inch a little bit closer to the birth of Jesus; with every day of Advent we move a little bit closer to the manger.
Somebody really needs to sing "Come, Thou Long Expected Jesus" right now.
Seriously. I'll start. Y'all chime in with some harmony.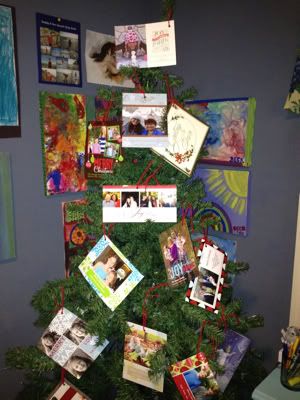 Finally (FINALLY!), this is our Christmas card tree. I started putting a Christmas card tree in our playroom about five years ago when we got a free tree from Home Depot (it was a Thanksgiving sale promotion). This year the Christmas card tree looks a little sad because we haven't gotten a whole lot of cards yet, but I'm holding out hope that the tree will be filled to overflowing by the end of next week. Since most of our friends have kids who are 10 and up, the cards don't roll in quite as fast as furious as they did when everybody had toddlers and couldn't wait to share a picture of their young'uns wearing various and sundry smocked clothing items on the beach.
Those were good Christmas card times.
So. There you have it. My (endless) (non-crafty) Christmas tour. I hope I didn't put you to sleep, but if I did, I certainly hope you enjoy your nap.
Be Merry, y'all.