– Wright Thompson is one of my favorite sportswriters. He's so good, in fact, that I can't read too much of his stuff at once or I start to think that I have absolutely no business writing a blog or a book or anything that involves arranging words into sentences. Lately, though, I've read a couple of his pieces that are so beautifully written that they beg to be shared: a behind-the-scenes look at the family life of LSU head coach Les Miles and a profile of Bear Bryant's driver, Billy Varner, and his struggles to remember a boss that he knew and loved.
– A few weeks ago my friend Elise pinned an illustration on Pinterest that I just loved. So I ordered it.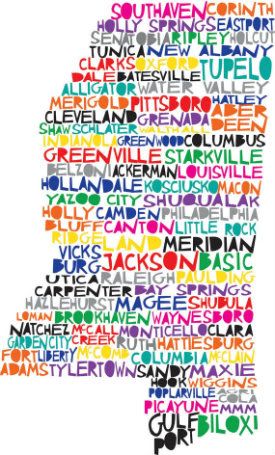 Isn't that so fun? The artist, Molly Mattin, has illustrations available for lots of different states. It just dawned on me that I should've ordered prints for Louisiana and Alabama, too – a grouping of the states where we've lived would be a neat way to document our little family's history, you know?
– The South's preoccupation with the best barbecue fascinates me. When I was growing up in Mississippi, folks talked about fried catfish way more than they talked about barbecue, but in Alabama, people have some strong opinions about their BBQ preferences. In the June issue of Southern Living, they've compiled a list of the South's 20 best barbecue sandwiches, and now I officially want to go on a barbecue-tasting road trip (there's also a list of the South's best pitmasters, so I guess that'll provide the stops for a second road trip, OH MY GOODNESS).
– I'm pretty sure I've mentioned this before, but just in case I haven't: John Mayer's new CD, Born and Raised, is phenomenal. We've listened to it like crazy for the last couple of weeks, and it's going to wind up being one of those albums that I associate with the summer of 2012. Gorgeous music with thoughtful lyrics – tough to beat.
Have a great weekend, y'all!
Edited to add one more: Think Hard, Stay Humble: The Life of the Mind and the Peril of Pride – an excellent sermon by Francis Chan. So convicting.