So apparently it is Thursday.
I'm not entirely sure what happened to the first three days of the week, but they have been speedy little devils. I had lots of working and cooking and errand-running to do after being away from home at the end of last week, and judging by the times that I've fallen asleep the last few nights, I have also been trying to set some personal sleep records. I haven't hit my personal best sleep time yet – that would've been when I was a senior in high school and once slept for fourteen hours – but let's just say that rest has been high on my priority list this week.
(She says, as she types a blog post at 6:13 in the PM while wearing her favorite pajamas.)
(#mamawstyle)
One of my favorite parts of this week was Tuesday night when I watched an installment of SEC Storied that focuses on the life and career of former Mississippi State football coach Sylvester Croom, and oh my word did it ever make me teary-eyed. It was really inspirational, and if you get a chance to sit down and watch it with your family, you totally should. I enjoyed it so much. D still hasn't seen it, so I'm going to watch it all over again when he does.
And in other riveting news, I also picked up some new pillows for our couches on Tuesday. I realize that this isn't at all interesting to anyone besides me, but I am just as tickled as I can be to have the new pillows because the sofas needed a little pick-me-up. Sister and I picked out fabric a couple of months ago, and my friend Barbara worked her magic with the sewing machine. I love the way the pillows turned out.
Here. You should meet them.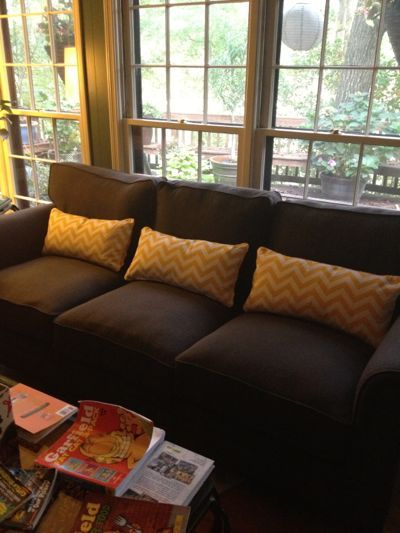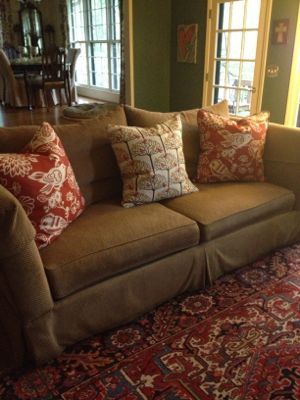 I know that the whole chevron thing is trendy, but since I tend to run a solid two to three years behind the trends and then hang on to them way too long (hello, trouser jeans) (and hello to you, too, sixteen different toile patterns in my last house), I figure that the chevrons and I will have a long and happy life together.
As far as the bird fabrics go, I realize that we're having a bit of a "put a bird on it" moment in this country, but the birds have a special meaning to me (no, seriously – they really do have a special meaning), and I would tell you the whole entire bird-related story if I weren't just a wee bit afraid that you'd think I was WAY OFF THE DEEP END CUCKOO.
CUCKOO LIKE A BIRD.
Anyway. I like the new pillows. Yay, pillows!
Wednesday was BU-SY (or BIZZY, if you prefer) – work, laundry, supper, Bible study, etc. and so on and so forth – but when I got home from Bible study and started to straighten up the kitchen a little bit, I turned on the TV to see if there was a show on the DVR to keep me company.
LO AND BEHOLD.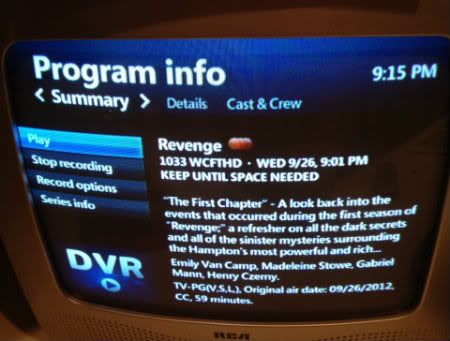 Now listen. I get that it wasn't the season premiere. It was more like a highlights show. But it was new (NEW!), and that means that the season premiere is on its way. I can't even tell you how much I've missed seeing Victoria Grayson stand on that fake balcony and stare out at the fake ocean while Emily Thorne / Amanda Clarke stands on her fake front porch and watches the footage from a Grayson Manor hidden camera on her phone.
It is beyond delightful.
This morning I got to do something that I have never, ever done before: I picked out a book cover for my book. Sweet Lisa Jackson (who works at Tyndale and takes such good care of Melanie and me) brought me the cover proofs at dotMOM last Friday, and of the three options she showed me, I loved every single one of them. By yesterday, though, I was really starting to favor one of them over the other two, so today I emailed Lisa and made it official. They're going to do a little more tweaking and whathaveyou, but I am excited. Except for the part where people might read it and I will feel very vulnerable and want to hide and block out the world and watch all five seasons of Friday Night Lights again.
Sometimes I struggle with courage. I'm not sure if you've picked up on that or not.
All righty. I have bored you for long enough. And now I need to get the little guy in bed and watch The Dan Mullen Show and then read the October issue of Southern Living because it has pumpkins and mums on the cover, and if I need anything in my life right now, it's pumpkins and mums.
And 65 degree temperatures.
And a little bit more sleep wouldn't hurt.
*I heard that there might be a bacon shortage next year.
*Granted, the article I read was about Europe.
*But still, I panicked.
Edited to add: I forgot to mention that I wrote a post about Designing Women over at Ree's blog. I know that some of you were barely born when it was on in the late 80s / early 90s, but I thought I'd pass along the link just in case you feel inclined to read it. Happy weekend, y'all!