If there is any consistent pattern to the way that I operate in the month of August, it's this: I overcommit. Every single time. I look at the calendar and think that I have all manner of time to cram in this thing and that thing before we jump back into our normal schedule, and by August 15th I am reeling from a to-do list that's completely out of control.
So today I am making a firm resolution that I'm not committing to a single thing next August. And if my past behavior is a reliable predictor of the future, I am absolutely going to stick with that resolution until about July 25th, at which point I will totally cave.
One of the things I committed to this past August was to tell y'all about some super-cute new stuff from Initials, inc. I agreed to tell y'all about it because I love their products and get the biggest kick out of the folks who work there. Their bags are fun and functional and MONOGRAMMED, so it's inevitable that I would like them since monogramming is every Southern girl's love language.
Unfortunately, however, August kicked my tail. It kicked my tail because I let it, just to be clear. In fact, it kicked my tail because I planned it, what with my tendency to overcommit and say "yes" to too many things and waaaaaay overestimating the number of hours that I'm capable of staying away from Bravo.
Anyway, it's September now – and about a month after I expected to get this post written – but I still want to make good on those last couple of August commitments. I especially want to make sure to carve out some time and ooh and ahh over all the Initials, inc. cuteness.
So that's exactly what I'm about to do. Here are a few of my favorites.
Sling Bags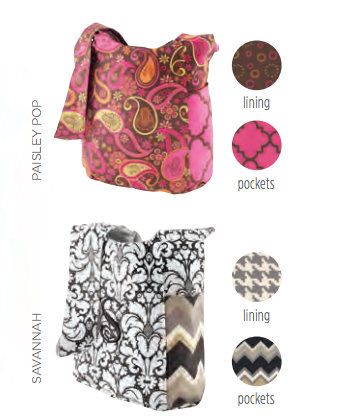 I am such a fan of a sling bag. I love the unstructured fun of it. I also love a purse that can double as an overnight bag in a pinch.
Zip Totes
These zip totes are perfect to carry around in your regular purse; they are light as a feather, and if you find yourself in need of a tote bag or a grocery bag, all you have to do is unzip the tote and load 'er up. Super easy – and super cute.
Triple Play
This Triple Play bag is one of my favorite new products in forever. I don't know about y'all, but I have hauled food to more places than I can count, and packing that food is usually fairly frustrating. I never want to put the hot stuff with the cold stuff, but if I'm going to a tailgate or something like that, I don't have the luxury of making three trips back and forth to the car. The genius of the triple play bag is that you can buy "hotty bins" or "chilly bins," and three of those bins fit into the Triple Play bag. That means I can use one of the bins to keep drinks on ice, one for potato salad, pasta salad, etc., and one for whatever hot dish I'm carrying somewhere. The hot stuff stays hot, and the cold stuff stays cold.
And just to reiterate: EVERYTHING IS IN ONE BAG.
Delightful.
So, if you're starting to do a little early Christmas shopping – or if you just want to do a little shopping for yourself – be sure to take a look at the Initials, inc. catalog. As my mama would say, there is more cute stuff than you can shake a stick at, and you will love their bright colors and modern patterns. It's always a treat when something is functional and great looking, you know?
If you'd like to win a $50 gift certificate to Initials, inc., check out all their cute merchandise – then come back to this post and tell me one thing you'd like to order if you win. I'll close this giveaway next Wednesday, September 19th, and draw for a winner using random.org.
Have fun, y'all!