Okay. I'm giving myself 30 minutes to update this here blog with something besides a video. It's been a crazy few weeks – in a good way – but I am finding that it is difficult to take care of my family and work and stick to deadlines and cook some food and occasionally fold laundry and serve diligently as a college football superfan without neglecting other areas of my life. Blogging has definitely been on the neglected end of my current activities spectrum, so I'm going to try to play catch-up.
I may not make much sense in the process, but I'm going to try nonetheless.
Last weekend Sister and I drove to Lexington for the Mississippi State / Kentucky game. It was such a pretty drive, especially since the trees have already started to turn in that part of the country. It was after 8 when we finally rolled into town, but we still had time to explore around our hotel a little bit and go out to dinner.
Well done, Lexington, with this little number.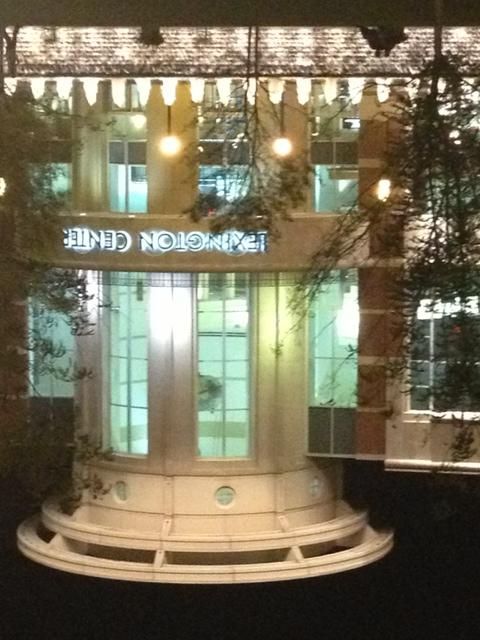 So pretty.
We woke up early Saturday morning so that we wouldn't be rushed (something you may not know about me: I DESPISE feeling rushed; I would rather be two hours early and SETTLED than five minutes late and frazzled), and after a delightful breakfast buffet at the hotel, we fired up the GPS and headed to the stadium. It took us awhile to figure out where to park, but once we'd taken care of that end of things, we high-tailed it for a couple of blocks so that we could get to the stadium in time for Dawg Walk. We walked up approximately 90 seconds before the team's buses arrived, and once Dan Mullen (who is State's head coach) hopped off the bus, he nodded at Sister and proceeded to give her a high-five.
Neither one of us really understood why. But it tickled us to pieces.
(Listen. I've said it a thousand times. Our coach is darlin'. I have honestly thought about making t-shirts that say "Our Coach Is The Cutest," but I just haven't gotten that far down my to-do list. His wife is a darlin', too, by the way. They are a darlin' family. DARLIN' PLUS, as Martha would say.)
We were in our seats a loooooong time before kick-off, which means that we saw the warm-ups before the warm-ups before the actual warm-ups. It reminded me of when I was a little girl and would go to State games with my daddy; I watched the team warm up so many times that I knew the exact order of their stretching routine. I recognize that may somewhat strange considering that I was, you know, eleven, but all those afternoons in section S at Scott Field are exactly why I get such a kick out of our Bulldogs now.
FINGERS CROSSED that Alex will feel the same way in about thirty years.
It was fun to see the 'Dogs win on the road, and even though it was a lot of time in the car just to see, you know, a football game, I am so glad we made the trip. We drove back to Nashville late Saturday afternoon, listening to the Florida / LSU game for most of the trip, and we walked in Sister's door just in time to see the second half of the Ole Miss / Texas A&M game. IT WAS EPIC. You would be embarrassed for us if you knew how much we hollered and clapped and whistled, so I'll make it easier for you and pretend like we were very reserved and refined.
I was mighty happy to see my people Sunday afternoon, and even though this week has been full, it's been a good 'un. There is just something about opening the front door every morning and feeling the BLESSEDLY COOL AIR. There's always about a five-second window where I feel like I could totally run laps out there in the middle of all that 50-something degree weather, but then I remember that I don't run. And that tends to shut down the whole running option LICKETY-SPLIT.
So that's about all that's been going on around here. In addition to studying for tests about William Penn and trying to learn spelling words, of course. And also: last night I got home from Bible study and realized that the DVR was recording Duck Dynasty AND Nashville. I decided to watch Duck Dynasty because I was afraid Nashville would prove quickly addictive and keep me from sleeping. Did any of y'all watch?
Okay. End of 30 minutes. And then some. Hope y'all are having a great day!