When Melanie and I were in Nashville a couple of months ago, our friend Paige mentioned that Compassion was doing a really cool thing at a local church. The Compassion folks had parked a huge (HUGE) truck in the church's parking lot, and Paige thought it would be great if we ran by to check it out. Mel and I were totally game, but truth be told I couldn't fathom why a big ole truck would be such a big deal.
Well.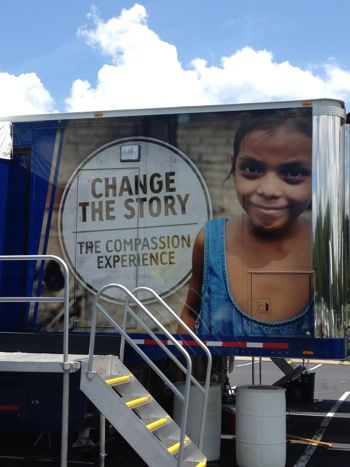 That big ole truck pretty much blew me away.
Because once you walk inside, you really do experience Compassion's ministry in a whole new way. The truck (or semi, or whatever) houses an interactive display that allows people to walk through the lives of three different children who have been sponsored through Compassion. You get to see and hear what their day-to-day lives are like – and you also see and hear the hope they have as a result of their involvement with a local Compassion project.
It is the coolest.
And your kids WILL. LOVE. IT.
You take the tour at your own pace, with an iPod and a pair of headphones as your guide. There is so much to see, to touch, and to read – and more than anything else, it's a phenomenal way for you and your kids to get an up-close look at what a sponsored child's life is like. If you currently sponsor a child through Compassion, you'll feel a deeper connection with that child – and if you don't currently sponsor a child through Compassion, you'll gain a greater understanding of exactly what a sponsorship can do (and mean) in a kid's life. Plus, there are plenty of Compassion volunteers on hand who can answer any questions that you may have.
I'm just as tickled as I can be that Compassion's Change the Story Experience is in Birmingham this week at The Church at Brook Hills (which just so happens to be my church). That big ole truck will be in the parking lot from Wednesday, October 10th until Sunday, October 14th. You can even set up a time to stop by so that you don't have to wait once you get there.
Change the Story will be in other cities this fall and winter; you can check out the schedule to see if they'll be somewhere near you.
I really, really hope that some of y'all get to go!