Archives for February 2013
This is one of the sweetest, most selfless things I've ever seen.
Go ahead and grab a tissue.
(via)
A few weekends ago some of my high school friends (and one college friend – hey, Daph!) came for a visit, and we did all sorts of fun things like talking and drinking coffee and talking and eating cheese & crackers and talking and hanging out in our pajamas and talking.
Our time together was jam-packed with adventure, as you can tell.
We actually managed to leave the house for lunch on Saturday, and afterwards Merritt, Elizabeth, and Daph wanted to go to a movie. Lately I am more and more likely to pass on a trip to the movies because, at least in my opinion, many people seem to have developed the attitude that the movie theatre is a perfect place to 1) talk about the movie while they're watching it 2) check their cellphones 50-62 times while the movie is playing 3) answer phone calls and 4) unwrap many small pieces of candy.
I know. I'm way too uptight. But if I'm going to pay cash money to spend two and a half hours of my life sitting in a dark room with strangers, I would prefer that we all sit in silence. And I would also prefer that the darkened room isn't lit at sporadic intervals by cell phone screens.
COLOR ME PICKY.
So the bottom line is that Melissa and I decided that we wanted to shop instead of seeing a movie (i.e., LISTENING TO PEOPLE UNWRAP ALL THE CANDY). Since the only thing on my need-to-do list was buying a new brush for my Mia Clarisonic (best skin care money I've ever spent, by the way), and since Melissa wanted to look for some new make-up, our first stop was Sephora.
It was last year, I think, when I bought the Urban Decay Naked eyeshadow palette that everybody was raving about online, and I liked it. I did. But most of the colors are too dark for me to wear on a daily basis. For one thing, I'm Pale-y McPalerson, and for another thing, I am not by nature a person who can pull off a smoky eye. I tend to like pretty, soft neutrals – nothing super dark and nothing super frosty.
Once I realized that there were only a couple of colors in the Naked palette that worked for me, I kind of kept my eye open (get it?) for something that might be better. I tried a couple of drug store brands, one department store brand, and even just barely applying some of the darker Naked colors, but none of those options worked very well.
However.
HOWEVER.
When I was at Sephora with Melissa, my whole make-up world changed when I ran across this (much smaller) Urban Decay Naked Basics palette.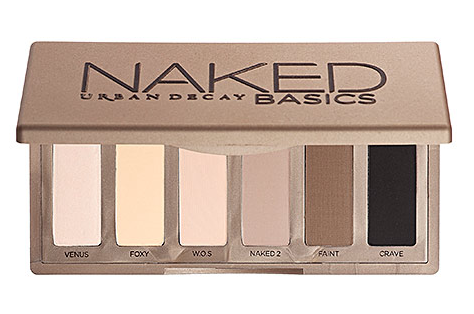 If you like neutrals, you are going to love these colors. There's only one in the whole palette that I would consider even remotely shimmery – and the rest are just good, basic (hence the name, I reckon) eye shadow shades that go with everything. The really dark shade makes a great liner, and for some of you it's probably a color that you can wear all the time.
(I am not one of those people. But if you are, then please know that I'm just as tickled as I can be for you.)
So there you have it. My new and exciting eye shadow find.
Tomorrow I'll be sure to tell you all about the canned beans I found on sale at the grocery store.
I'm kidding, of course.
Well, maybe.
Earlier today my little family and I got home from a great weekend in Dallas at dotMOM (Chattanooga, you're next). We had such a good time except for a two-hour window on Friday morning when I had to ask my fellas to please leave the room for a little while because I was feeling overwhelmed by some pesky details that were making me want to close the drapes and crawl back in bed and pretend like my only responsibilities for the day were watching Bravo and eating bacon.
But alas, it all turned out just fine. dotMOM is such a laid-back, joyful event, and I was so happy to be there – even if the Dallas water and my hair didn't like each other AT ALL.
Seriously. I will forever remember dotMOM Dallas as the time when I got me a word and a serious case of the flathead.
And even though this post is going to be short because I'm trying to watch the Oscars and type at the same time, I just want to document the fact that there's one more thing that I'll never forget about the weekend: sitting in the airport early this morning and seeing this week's New York Times Best Sellers list for the first time.
As you can imagine, #27 just thrills me to pieces. I am OBNOXIOUSLY proud of Mrs. Big Mama (if you haven't picked up on that already).
So anyway. Now I'm going to finish watching the Oscars (for the record, I have seen two movies this year – I am hardly up-to-speed on the nominees) and try to catch up on some sleep. But I'm happy to say that between the weekend and seeing Mel on that little list up there, my heart is oh-so-full.
Hope y'all had a great weekend!
p.s. Tonight's awards have left me convinced that Hugh Jackman just might be the kindest, most gracious person in the whole world.
p.p.s. Daniel Day-Lewis may be the runner-up.
p.p.p.s. Adele's hair is perfection.
p.p.p.p.s. I believe that is all.
One of the biggest highlights of the last couple of years – for me, at least – has been emceeing dotMOM with Melanie. It is such a fun, laid-back event – such a great blend of solid teaching and worship and encouragement for women who are at all stages of motherhood.

This week I'm heading to Dallas for my first-ever out-of-town dotMOM (both of the previous dotMOMs have been here in Birmingham), and I cannot wait. Priscilla Shirer, Vicki Courtney, Angie Smith, and John Croyle will be teaching, and Travis Cottrell is leading worship. That means that over the last couple of weeks I have dedicated way too much energy to thinking about what kind of jokes Melanie and I can play on Travis, but in the end I've decided to take the high road and behave and maybe try to talk Travis into letting me sing back-up.
For the record, I am not a strong singer. But I try not to let that little pesky detail get in my way.
Regardless, this weekend in Dallas (February 22-23) is sure to be just the thing for a weary mama's soul. Or even if you're not feeling particularly weary, dotMOM will still be a great place for you to sleep a little later than normal and soak in some refreshment for your mind and your heart. I also think it's safe to say that you will laugh. A LOT. Because wherever two or more women are gathered in His name, laughter surely follows.
And while I know that this next thing isn't going to convince anyone to join us, I think I'll share it nonetheless: last night I was washing clothes, trying to figure out what I'm going to pack and whatnot, and based on that process I think it's safe to say that any dotMOM attendee is also going to enjoy the sweet privilege of seeing me recreate some of Maude's most memorable ensembles.
Seriously. The layering is going to be epic.
I know that there may not be many people reading this post who can get away for a couple of days this weekend – especially if you don't live near Dallas – but if you can make it work and you'd like a couple of free tickets (or if you'd like to give tickets to someone who lives in or around Dallas), you have come to the right place. Just leave a comment on this post, and you'll be entered to win. I'll draw for a winner on Tuesday so that you have time to make any necessary arrangements.
Hope to see some of y'all there!
Love,
Maude
This giveaway is now closed. I'll notify the winner via email tonight (Tuesday).
– I am way behind on TV right now, so last night I decided to watch an episode of Scandal before I went to bed. It was the episode from week before last – the one that involves a character who is on her death bed – and y'all, that was the most intense hour of television I have ever seen. I had the most visceral, "OH, NOOOOOOOOOOO" reaction to the last ten minutes of the episode, and I was so haunted by it that I had trouble sleeping. I wasn't even a little bit prepared for the way the whole thing unfolded. And that's all I'll say about that.
Let us be mindful of spoilers in the comments, by the way.
MINDFUL OF THE SPOILERS.
– Have any of y'all been in Gap lately? Because last week I ran in there to get some jeans for the little guy, and they have some of the cutest spring clothes. Bright colors, cute styles (though still too much of the skinny jean for my personal preference), and tons of great-looking accessories. WELCOME BACK, GAP. I've missed you. And I hope you've grown out of that whole stretchy-pants-for-men phase.
– I got some bookmarks in the mail today.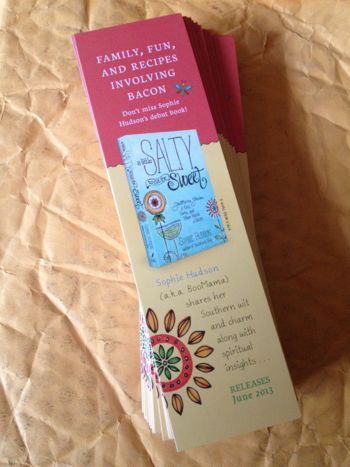 First thought: Ohhhhh, sweet Nellie Olsen this makes me nervous.
Second thought: I think "insights" is a strong term.
Third thought: I would like to go hide somewhere very small.
I have to say, though, that I am so happy with my book cover. I wanted something that was a little loose-y goose-y and artsy and whimsical, and by diggity the design team at Tyndale totally delivered. It makes me smile whenever I look at it, and that is a very lovely thing indeed considering SWEET MERCY, MY NERVES.
– For some reason, whenever I type "the Lord" on my phone, it autocorrects to "The Lord." And it makes me feel a little bit like Moses. Or at the very least Charlton Heston.
– Today at lunch A. was telling me how much he loves to write. "I may even write a book someday," he said. And when I asked him if he knew what the book might be about, he said, "Oh, yes ma'am. It's going to be called My Life: Burps I Have Loved." So y'all be on the lookout for that sometime around 2036-ish. It's gonna be a must-read.
I promise that I'm going to get to the giveaway part in just a second. But first I want to tell you a quick story.
About a year and a half ago Melanie and I were in Nashville to do some stuff for dotMOM, and a friend of ours invited us to her house for supper on the last night we were there. I knew the second we walked in the door that the supper was going to be seventeen kinds of memorable, primarily because I caught a glimpse of homemade pasta draped over clothes hangers in the kitchen.
I mean, I may have spent my whole life in the deep-fried Deep South, but I have sense enough to know that homemade pasta is always a promising sign.
There were four or five other people at supper that night, and Lisa Harper was one of them. Lisa was in charge of making the salad, and I will NEVER forget what she served us. She used gorgeous little Heirloom tomatoes from her garden, along with fresh basil, goat cheese, some sort of fig balsamic reduction that I have tried (and failed) to replicate, and she topped off everything with the a pinch of the most glorious sea salt I have ever tasted. It was one of those dishes that was so simple, so elegant, and so unbelievably delicious that not a single one of us could stop talking about it.
Well, apparently I went on and on and on about the salad – especially about the texture of that sea salt – because when Melanie and I got ready to leave a few hours later, Lisa walked in the kitchen, picked up her jar of sea salt, and pressed it into my hand right before I walked out the door. She insisted that I take it, and ever since then, whenever I see Lisa, hear her, read something that she's written, or try to copy that salad she made, I think, Well, there's sweet Lisa Harper – she'll give you the salt right off of her back.
[AND THUS CONCLUDES OUR "QUICK STORY."]
[WE WILL NOW SEGUE' INTO THE GIVEAWAY PORTION OF THE POST.]
[ALSO: I MIGHT NEED TO PRACTICE MY TRANSITIONS.]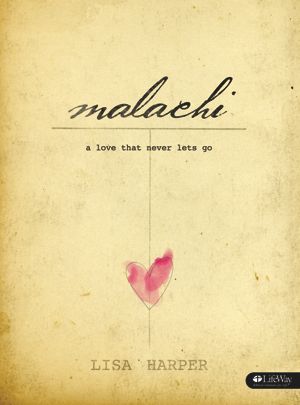 Last year Lisa released a new Bible study called Malachi: A Love That Never Lets Go, and it is all about the never-ending mercy of God. So often we can fall into thinking that God has forgotten about us or has finally – FINALLY – gotten completely fed up with us, but in Malachi we see how God pursues His people and continues to love them, even when they're (we're) at their (our) most rebellious.
Lisa is such a gifted communicator – so wise, so funny, so real – and she's also a Bible scholar. Those two qualities make for some mighty fine teaching, and Malachi would be a perfect study for a small group at your church or for a eight-weeks-o-Bible-fun with two or three close friends.
If you'd like to win a DVD leader kit for Malachi: A Love That Never Lets Go, here's what you need to do:
1. Leave a comment on this post.
2. The end.
I'll leave comments open until Friday night. As soon as I close comments, I'll draw for a winner using random.org.
And listen. If I could throw in one of those salads that Lisa made, I totally would. However, I can't really recommend eating a salad that has traveled to your home via the USPS. I have some odd hang-ups about things like, you know, refrigeration. And whatnot.
Y'all are going to love this study – hope your week has been great so far!
This giveaway is now closed. I'll notify the winner via email sometime on Saturday.