– I am way behind on TV right now, so last night I decided to watch an episode of Scandal before I went to bed. It was the episode from week before last – the one that involves a character who is on her death bed – and y'all, that was the most intense hour of television I have ever seen. I had the most visceral, "OH, NOOOOOOOOOOO" reaction to the last ten minutes of the episode, and I was so haunted by it that I had trouble sleeping. I wasn't even a little bit prepared for the way the whole thing unfolded. And that's all I'll say about that.
Let us be mindful of spoilers in the comments, by the way.
MINDFUL OF THE SPOILERS.
– Have any of y'all been in Gap lately? Because last week I ran in there to get some jeans for the little guy, and they have some of the cutest spring clothes. Bright colors, cute styles (though still too much of the skinny jean for my personal preference), and tons of great-looking accessories. WELCOME BACK, GAP. I've missed you. And I hope you've grown out of that whole stretchy-pants-for-men phase.
– I got some bookmarks in the mail today.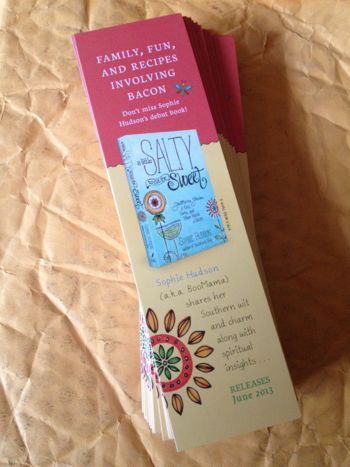 First thought: Ohhhhh, sweet Nellie Olsen this makes me nervous.
Second thought: I think "insights" is a strong term.
Third thought: I would like to go hide somewhere very small.
I have to say, though, that I am so happy with my book cover. I wanted something that was a little loose-y goose-y and artsy and whimsical, and by diggity the design team at Tyndale totally delivered. It makes me smile whenever I look at it, and that is a very lovely thing indeed considering SWEET MERCY, MY NERVES.
– For some reason, whenever I type "the Lord" on my phone, it autocorrects to "The Lord." And it makes me feel a little bit like Moses. Or at the very least Charlton Heston.
– Today at lunch A. was telling me how much he loves to write. "I may even write a book someday," he said. And when I asked him if he knew what the book might be about, he said, "Oh, yes ma'am. It's going to be called My Life: Burps I Have Loved." So y'all be on the lookout for that sometime around 2036-ish. It's gonna be a must-read.