I know that I don't write about my work – and I'm not about to start because, well, BOUNDARIES – but last week was, to put it mildly, FULL. It wasn't bad by any stretch of the imagination, but it was full, primarily on an emotional / spiritual / mental level. So by the time Friday afternoon rolled around, I wanted to sit outside and NOT THINK and look at some trees and NOT THINK and maybe hang out with some friends and – you got it – NOT THINK.
Which is how we ended up here.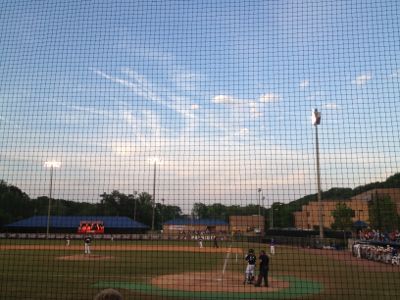 And no kidding: a high school baseball game was the cure for (almost) every single thing that was ailing me. The little guy and a buddy threw a baseball to each other for the better part of two hours. There was plenty of time to visit with friends, to look at the trees, to breathe a little bit and soak up some end-of-the-day sunshine. We had a delightful time.
We went to Five Guys after the game, and by the time we got home, I felt like I'd been hit by a wave of BONE-WEARY TIRED that demanded I proceed straight to bed just as soon as I had my standing appointment with this stuff.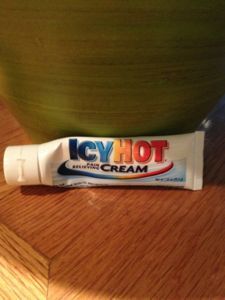 Listen. I KNOW. It's awful to be 109. But the fact that I have a standing appointment with the Icy Hot is indicative of the fact that I have not yet found my dream pillow. Oh, I bought a very nice pillow at Bed, Bath, & Beyond, and everything about it seems like it should be perfect (side sleeper, synthetic down since I can't do the feathers, very plush but still somewhat rigid), but when I put my head in the center of the pillow, it doesn't give me enough support. For the first three or four days I thought that I had found a winner, but then it was Neck Discomfort 2.0. So the search continues.
Saturday morning I woke up way earlier than I expected, but that was totally fine because I got to write in my new journal.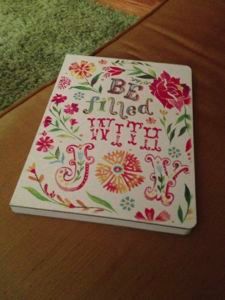 Isn't that SASSY MCGEE? I got it at a bookstore here in Birmingham, but it isn't on that store's website. So here's a link if you're interested. It's just as cute on the inside.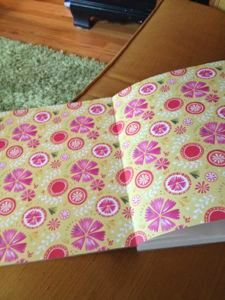 (Just FYI: the paper is lined.)
(I know that some of you are probably unlined journal people.)
(Free spirits. DEVIL MAY CARE-ISH.)
I spent most of Saturday working on some book-related stuff, but I took a break around 11:30 to cook lunch for my fellas. Normally I don't do a whole lot of cooking on Saturdays, but I had pork chops and squash that I bought earlier in the week, so I decided to fix some rice, too, and just go ahead and serve what my mama would call a big ole country dinner. So I made a squash casserole, cooked some rice, pan seared the pork chops, then put the pork chops in the oven to finish cooking. I figured I might as well make some gravy to go with the pork chops and rice, so I pulled out all my gravy-related ingredients, grabbed the pork chops out of the oven when they were done, and as I was taking the pork chops out of the skillet, I somehow forgot that I'd just taken them out of a SCALDING HOT OVEN and grabbed the skillet handle with my left hand.
Here's my biggest understatement of 2013: ouch.
You know how sometimes you stub your toe and it takes your brain a few seconds to process that OH YES MA'AM THIS IS GOING TO SMART? That's what happened when I grabbed the skillet. I stood still as a stone for what felt like thirty seconds, wondering WHY IN THE WORLD DID I NOT THINK THAT WAS HOT? And then I started to feel the burn, but in an entirely different way than Jane Fonda intended back in the 80s. I made some sounds to the effect that SWEET FANCY MOSES I HAVE HURT MYSELF, and D came running (okay. maybe not running. maybe more like walking really fast.) down the hall to see what he needed to do to help. By then I was holding my hand under some cold water, so he made me an ice pack and cleaned up everything that splattered when I dropped the skillet. He also made sure that I didn't require any medical care, and then he said, "Is there anything else that you need me to do? Can I finish making lunch?"
And y'all, I don't know what came over me, but in that moment I felt as determined as I've ever been in my life. I assured D that I could still take care of lunch, so I rubbed a little salve across my finger tips, put the skillet back on the stove (with my right hand, of course), and by diggity I whipped up a batch of gravy. My left hand was holding tight to that ice pack, but my right hand mixed flour with pan drippings, poured in some beef stock, adjusted the temperature, and whisked for upwards of ten minutes. I did have to ask D to twist the pepper mill for me there at the end, but other than that I made that one-armed gravy all by myself.
Honestly, I felt like I was in some sort of impromptu Southern Woman Olympics. And while I had suffered a setback with an unexpected minor burn that was all better within a few hours, I would not – I could not – let that injury get in the way of my gravy. Oh no ma'am. I have trained for way too many years.
(I was so tempted to say "gravy trained" in that last sentence.)
(Clearly I exercised remarkable restraint.)
(And I hope y'all had a wonderful weekend.)