I know that I rarely post on Sundays, but for the last 24 hours there's been an issue that I haven't been able to get out of my head or off of my heart, so I figured I'd take a few minutes and blog about it. Maybe the process of writing will bring me a little clarity. Or at least it'll help me vent.
Last summer I started to realize that there was a tendency – a trend, if you will – that was troubling to me on a lot of levels. I thought maybe it was a short-term deal, something that would run its course in a couple of months, but I'm realizing that this trend isn't going anywhere. And I feel like I need to speak up about it.
Here we go. I'll say this as plainly as I know how.
*deep breath*
Dear Grown Men of the Universe,
You're gonna need to put away the tank tops.
Love,
Everybody
Because SERIOUSLY, Y'ALL.
And please understand. I'm not talking about undershirts. I'm not talking about work-out shirts, though I'm a little EWWW in that category, too. I'm not even talking about a loose-fitting something-or-other that a man throws on before he goes to the pool or the beach.
I'm talking about, well, stylish tank top options. I'm talking about what Peach says that her sons refer to as "bro tops." I'm talking about Cool! Let's go to the movies! Hold on while I throw on some shorts and a tank top!
I'm talking about this.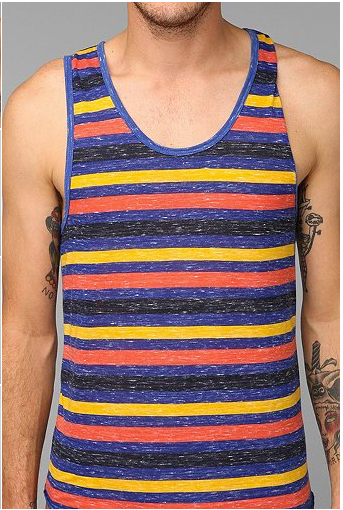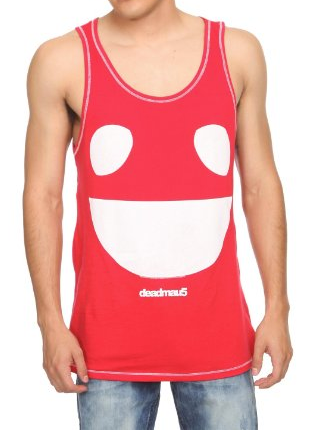 And listen. I get it. The weather gets hot. Tank tops can be comfortable. Plus, if you're a man who works out a lot, you may see wearing a tank top as an excellent opportunity to invite the general public to your own personal gun show.
But FOR THE LOVE, PUT ON SOME SLEEVES.
Because here's the bottom line, at least for me: what's going on underneath a guy's arms is his own personal business. I don't need to be privy to ANY OF THAT.
I brought up this issue on Twitter yesterday, and I appreciate what Amanda had to say about the male tank top trend.

That's a hard word. But it's a good word.
And clearly I'm (mostly) kidding about this whole thing, but the kidding doesn't change the fact that I'm not really a fan of grown men going sleeveless.
So what do y'all think about the bro tops? Yay or nay?