All righty – here are our winners!
First of all, the winner of the personalized Flip video camera as well as a copy of Amy's new CD is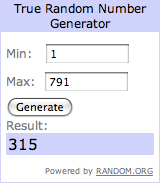 Commenter 315 – Beth G.
The winner of the 20-CD Amy Grant library is
Commenter 416 – Kim
And the winners of Amy's new CD are
(if you didn't leave a blog link in your comment, you can check the comment numbers on the original giveaway post if you're not sure if you're the winner or not)
24 – April
152 – Shawnda D.
237 – Chris
296 – Valerie
181 – Vickie
287 – Amanda
554 – Lara
192 – Caroline
673 – Jan
558 – SEAS
Winners, you'll be getting an email shortly about how to claim your prizes. Congratulations!
And thanks, everybody, for such great participation in this giveaway!