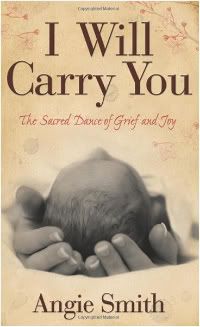 Like so many of you, I've read Angie Smith's blog for a couple of years – ever since I first heard about Angie and Todd's precious baby girl, Audrey. And because I've read Angie's blog and love her as a real-life friend, I figured that writing a post about her book wouldn't be difficult. I knew the book would be great, and I knew it would be touching, and I figured I'd rattle off 500 words about it in no time flat.
But instead I've been thinking for two days about how to write this post.
And I've finally decided that there's nothing I can say that will do Angie's book justice.
Because the bottom line is that it has blown me away.
I Will Carry You is absolutely beautiful. It's heartbreaking, heartwarming, funny, encouraging – and more than anything, it's real. It's like sitting across from a very kind, very wise friend and listening to her share her story. Audrey's story. Their family's story. And God's story that He is telling through them.
The book officially releases May 1st (but Amazon is already shipping it – just FYI). In addition to buying the book online, you can buy it live and in person at Barnes and Noble, Books a Million, Borders and LifeWay.
I'm tickled that I have three books to share with y'all, and if you'd like to try to win one of them, all you have to do is leave a comment on this post. In the spirit of Angie's book, why don't you tell me one of your most cherished family memories?
I'll announce three winners this Sunday night, May 2nd. And as usual, I'll use ye olde random.org to choose the winners.
Hope y'all have a great weekend!
This giveaway is now closed.