This is a compensated review by Lands' End.
A month or so ago I got an email asking if I'd like to review a swimsuit from Lands' End. I don't really do stand-alone reviews (why? BECAUSE I STINK AT WRITING THEM), so I replied and asked them if they'd like to do a giveaway instead.
Then I ran and hid in a corner because I am not even a little bit confident when it comes to business-y things. And yes, I realize that we're talking about a blog giveaway and not a multi-million dollar merger, but still. I'm not really a fan of the counteroffer.
Anyway, much to my delight, they said yes – and they offered to give away a $100 gift card.
And I was all, SCORE!
And they were all, PICK OUT A SUIT!
And I was all, SOLD!
Now granted, I hate shopping for swimsuits because, well, BACK FAT, but they are a necessary evil in my life. I have a child who loves the water, and by diggity I'm going to be in the water with him. It's fun to me. I love throwing the diving rings and playing Marco Polo and the whole deal. I mean, if I'm going to be in the un-air conditioned out of doors when it's approximately 148 degrees (give or take), then the option hanging out in cold water is pretty much a no-brainer.
Plus, since going to the pool is a big chunk of our summertime routine, a good swimsuit that won't ride up or pill or snag is a TREASURE. If I'm going to set vanity (AND PRIDE) aside in the interest of making memories, then I want to be comfortable when I'm swimming. A good suit is a huge part of that.
So. Here are a few Lands' End suits that I think are fab. And by the way, these suits aren't even a little bit skimpy or flimsy. Once you try one on, you understand why they cost a little more. They're worth it.
It's kicky and retro and fun, isn't it?
I came oh-so-close to picking out
this top
. Love the colors.
Aren't the ruffles cute?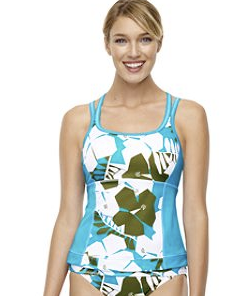 If I were what you called "fit," I would wear this top for a jog and head to the pool. It's part of the
Lands' End Aqua Terra
line, and I think it's adorable.
This is a
tummy control swim mini
. IT IS OUR FRIEND. I ordered it and love it. LOVE IT.
I think this cover-up is cute, too.
If you'd like to try to win a $100 gift card from Lands' End, here's what you do.
1. Take a look at the Lands' End swimwear.
2. Come back here and tell me what you'd buy with a $100 gift card.
3. Make sure your email address is correct in your comment.
4. That's it!
I'll draw for a winner on Friday, May 28th.
Happy Swimsuits, everybody!