James Taylor – at Christmas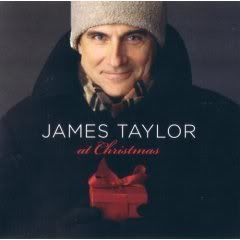 In case you were wondering if there's anything better than riding down the road singing James Taylor's version of "Go Tell It On The Mountain" with your four year-old?
There's not.
Harry for the Holidays – Harry Connick, Jr.
I adore this CD.
High School Musical 2

Sometimes you just have to surrender to the inevitable. Because it's easier.
Don't Get Comfortable – Brandon Heath

This is one of those CD's that has grown on me over the course of four or five months. Initially I thought it was good, but it got a little overshadowed by my obsession with Monk & Neagle's The Twenty-First Time.
But you know what? This Brandon Heath CD is excellent. The lyrics are thoughtful and original, and I adore his voice, which is a cross between Chris Rice and James Taylor and Jack Johnson.
Girls, you will love this one. For real.
S.O.S.: Save Our Soul – Marc Broussard

I've been a fan of Marc Broussard's for four or five years, and he has completely outdone himself this time.
I can't even tell you how fun this CD is. What I can tell you is that it will make you dance in your living room. And bounce incessantly. While you clap your hands.
It's funky, soulful and contagious.
And it's great to listen to with your kids – which is a huge plus with me because that means I don't have to listen to high-pitched animated characters in my car. You can hear samples of each track here.
Prepare to get your groove on.
Waking Up – Bethany Dillon

This CD is really staying with me. I keep going back to it over and over – especially when I'm writing.
Or, I should say: "writing."
The lyrics run deep, and I take away something different every single time I listen.
And since I now know that she's engaged to Shane Barnard of Shane & Shane, the love songs are so much easier to decipher.
I would also like to say that she gives a shout-out to Monk & Neagle on her website (look at her links), so she's quickly being elevated to pretend-BFF status.
You can take a listen here.
This one is going to be in heavy rotation for a long time.
The Twenty-First Time – Monk & Neagle

I mean, at this point, do I really have to say anything else?
It's my favorite CD of the last five or six years. Since John Mayer's "Room For Squares."
Pre-order it if you don't have a copy. You will adore it.