This post is sponsored by Storkie Express.
About four days ago I was pretty sure that I wasn't going to send Christmas cards this year. Normally by this time in December I've put those little puppies in the mail and sent them on their way to friends and family, but this year I'm running behind in just about every single phase of my life. Which is why we've told our seven year-old that we'll be celebrating Christmas sometime around January 6th.
OH, I KID.
A couple of days ago, though, when I was doing my best to plow through my long-neglected inbox, I saw an email from a stationery company called Storkie Express. So I clicked on the link – and within the span of about two minutes, I caught me a serious case of Christmas card fever. I mean, there was this one. And this one. And this one. I started thinking about a picture of the little man that I'd love to use on a card, and before I even knew what happened I was trying to figure out how quickly the cards could be delivered to our house. The classic designs with a touch of whimsy totally won me over.
So I reckon I changed my mind about that whole not-sending-cards thing. In fact, last night I uploaded A's picture, changed the text and the colors on the design I liked best (another great feature: LOTS of customizable color combinations on many of the designs), and I ordered our cards.
I'm just as tickled as I can be.
When I responded to the email from the Storkie people, they asked if they could give away a $50 gift certificate to one of you very fortunate people. And I said "Oh, no thank you – I don't think anyone wants any help with their Christmas card expenses."
OH, I KID AGAIN.
LOOK AT ME WITH ALL THE KIDDING!
And seriously, their cards are great-looking. Here's a little sampling.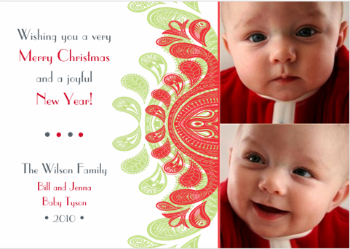 So, if you'd like to enter for a chance to win a $50 gift card from Storkie.com (and the gift certificate code will come to you via email, by the way – so you won't have to wait very long at all for your prize), here's what you need to do:
1. Take a look at the Christmas photo cards, Christmas cards, holiday cards or holiday invitations on Storkie.com.

2. After you've looked around, pick a design or two that you think you'd like to use if you win the giveaway.

3. Come back here and tell me your favorite in the comments.

4. The end.
Since time's-a-wastin' in terms of getting out Christmas cards before Christmas actually, you know, happens, we're going to make this a quicker-than-average giveaway. I'll close comments on this giveaway Monday, December 13 at 8:00AM central time. I'll draw for a winner immediately after that – and notify the winner by 9:00AM central time – so check your email early and often Monday morning. If you order your cards by Monday at noon, the cards will ship out Tuesday.
And as usual, if I don't hear from the winner within 24 hours, I'll draw for another winner.
Happy Card Shopping, y'all!
This giveaway is now closed.