Oh, internets – I am ever-so-excited about what I get to share with you today. YOU HAVE NO IDEA HOW HAPPY I AM.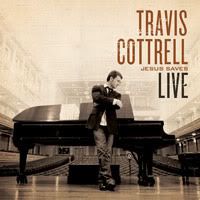 Because I'm giving away twenty copies of Travis Cottrell's new worship CD, Jesus Saves LIVE. Trust me when I tell you that IT. IS. PHENOMENAL.
Please permit me to elaborate.
Travis is one of the most STINKIN' HUMBLE people I have ever known in my life. That is but one reason why David and I love him so much. He also happens to be deeply, PROFOUNDLY gifted as a worship leader, songwriter, singer and musician. And on this new CD, he uses every single one of those gifts for God's glory. In fact, after I listened to the whole CD for the first time, I called David and said, "Do you know what is all over this music? The tender heart of God." Even now, that's the best way I know to explain it. There is a posture of humility and surrender and praise that just permeates every single song.
(By the way, when I shared my "tender heart of God" comment with Travis, he said, "Okay. Thank you. Nowlet'spleasedon'tevertalkaboutitagain.")
(And then he said, "WHAT ABOUT ANGELA CRUZ?")
(Because let me tell you: Angela Cruz – who's a regular member of Travis' praise team – sings a version of "Mercy Seat" that will send you straight into the ugly cry. I've never heard anything so worshipful in my life. SWEET MERCY.)
It's been so fun to listen to this CD with my family, and we all have different favorites; I adore the very first song, "To The King," because I am such a fan of a strong call to worship (old Methodist habits die hard, they do). David loves listening to Cindy Morgan sing "Praise The King" backed by a 300-member choir, and Alex requests "Victory in Jesus" every single time I pick him up from school, though last night he told me in no uncertain terms that "Jesus Saves" is "the most important song of all, Mama."
Well I reckon it is.
And that brings me to the last thing I'm going to say and then I'll quit talking and let y'all win some CDs, I PROMISE: while the lyrics on this CD are jam-packed with Truth, the melodies are so easy to sing that your young kids will love listening, too. There have been several times in the last couple of weeks when I've overheard our little guy singing the chorus to "Our God Saves" or "Jesus Is The Lord" while he's playing – and he's just picked up the words from listening to them in the car. You just can't beat that, you know?
OKAY. HERE'S HOW YOU WIN ALL THE GREAT MUSIC.
1. Go listen to clips of each song over on Travis' website.

2. Come back here and tell me your favorite.

3. That's all.

4. Except that if you want up to three additional entries, then link to Travis' website (http://traviscottrell.com) from your blog, Twitter or Facebook – then come back here and leave an additional comment for each one of those links. So you can leave up to four comments total.
And do you know what's even more fun about this particular giveaway? You get to win the CD before it's released on June 2. This giveaway will run through Friday, May 22, and then I'll draw for 20 (TWENTY!) winners.
Y'all are going to love it!
p.s. There's another Travis-related contest going on with Worship Leader magazine, and you can get all the info on that right here.
This giveaway is now closed.