Hey y'all –
Here are the winners of the Third Day question contest: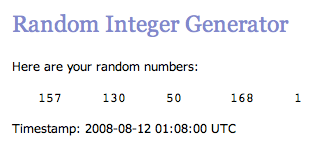 1 – Suzanne (she also won at Big Mama's – WHAT ARE THE ODDS, I ASK YOU), so I'll check and see if I can pick one more winner)
50 – Amy Martin (earthlink email, question about shopping)
130 – Mozi Esme's Mommy
157 – Amy K. (cox email, question about hair, and WHAT IS IT WITH THE AMYS?)
168 – Kerry – Colored With Memories
Congratulations, everybody! Mark from Third Day will be answering your questions on his blog on August 18th – I'll be sure to post a link so you can read all the great questions and answers.
Thanks so much for your participation – and winners, if you'd send me your mailing address, I'll forward that info to the people who'll be shipping your fabulous prizes.
Now. If you'll excuse me, I need to be getting back to my place on the couch so that I don't miss a single second of the Olympics.
I tend to err on the side of obsessive, you know.