It's more than a little ironic that I turn into such a shutterbug at the beach since I am not typically a huge fan of The Nature (unless there are trees involved), but everything about the beach is so stinkin' beautiful that I find myself taking pictures of things that would normally terrify me.
You know, things like birds.
As a general rule I have a healthy fear of birds. I'm always suspicious of them, wary that at first opportunity they're going to starting shoving their beaks in my neck (because in case you weren't aware of it, "shoving beaks in humans' necks" is the #1 kicky bird pasttime), but the beach manages to ease my aviary anxiety a little bit. The birds seem so small and so graceful in relation to that big ole Gulf, and so I make my peace with them. I seek them out, even.
Saturday morning when the little guy and I were out walking, a woman was sitting on a lounge chair and tossing bread crumbs in the air. She was absolutely surrounded by seagulls, and while part of me wanted to freak out and scream "BIRDS! BIRRRRRRRRRRRRRRDS!" while running for my life, I decided to be a real-live grown up and simmer down, already.
Alex and I very slowly made our way around the birds so that we were facing them and not behind them (that way I could keep my eye on them if they started to make a beeline for my neck), and before I knew it I was squealing just a little bit, totally captivated by their enthusiasm over those bread crumbs.
I was terrified, mind you, but squealing and captivated just the same.
And then I started to feel brave. And I got closer.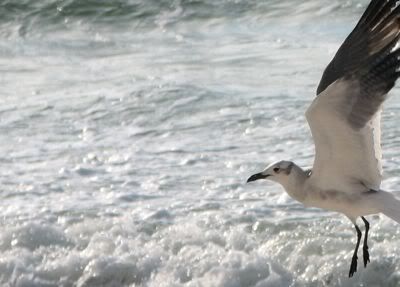 So after all of that, I feel like I've made some progress with my bird fears. In fact, I've come up with what I think is a catchy mental subtitle for Fall Beach Trip '08: "The Time All The Birds Ate Bread And Looked Pretty And Didn't Yank A Vein Out Of My Neck."
It has a real ring to it, don't you think?