Archives for October 2008
All righty. We'll try the links on the main page and see how it works. Or doesn't work. Or whatever.
– You can still vote for your favorite contemporary inspirational artist (Casting Crowns, Mercy Me or Third Day) in the American Music Awards.
– I saw this movie yesterday and loved it so much that I may have to go back again before the week's over. GAME ON.
I guess it's safe to say that the whole Michael / Holly story line took quite a turn in this episode. They make me laugh and are so bizarrely perfect for each other that you know they're just destined for TV romance failure.
I thought there were some great lines this week, even if they weren't necessarily guffaw-worthy. A few memorable moments:
1) "No more. No more."
"Too many times."
2) "You're making a knife with a knife?"
"You got a better way?"
3) "I'll probably get soup or something light."
4) "You're always safe with me. I'm a very good screamer."
5) "Instead of farms fighting against AIDS, it's us fighting against our own poverty."
6) "He got me."
"Twice."
7) "Michael gave me a list of his ten favorite Bruce Springsteen songs. Three of them were Huey Lewis & The News. One of them was Tracy Chapman 'Fast Car.'"
8) BEST "That's what she said" EVER.
9) But the auction totally depressed me. Might be the saddest I've ever been watching an episode of "The Office." Poor Dwight.
10) And also: poor Jim.
Now if you'll excuse me, I think I may need to go crawl under the covers for a little while. Just to recover from the SOUL-NUMBING SADNESS, you understand.
What did y'all think?
1) Haven't forgotten about "The Office." But we were on the road when it came on Thursday night, and I haven't had a chance to watch it since we've been home. As soon as I watch it, I'll post about it. Because better late than, well, later.
2) For the last year or so I've been posting to a Daily Links page. I've started to think that maybe it's a waste – that I should just post the links on my main page so that feed readers and etc. will update when I do. Anybody have any thoughts? Preferences? Concerns? News for the good of the group?
3) North Carolina is beautiful.
4) This morning I made a to-do list, and the fourth item on the list was "High School Musical 3." I'm not proud, people. I'm just a mama in her late thirties with a craving for some cheesy duets. I'm confident that HSM3 can satisfy that craving. I'm all about it.
5) Speaking of cheesy duets, this past Friday night we went to dinner with some friends who were also in North Carolina, and when I tell you that we ROCKED IT OUT to "Separate Lives" and "When She Danced" as we drove down the road in a minivan (COME ON, NOW), I am not exaggerating. There were parts. There were gestures. There would have probably been some choreography if we had been able to stand. It was glorious and one of my new favorite memories.
6) This Thursday I thought I'd put up a Mr. Linky for an impromptu-ish Souptacular / Crockpotalooza (thanks, Holly) so we can share some hearty fall recipes. Several people have emailed and asked if we could, and it's not like I have plans, so, you know, DONE. I have no blog button to share right this second, but I'll try to round up something by tomorrow.
7) Happy Monday, y'all!
While I don't necessarily love to be out and about in the nature, I do love to look at it. I love to take pictures of it. And between our trips to the beach two weeks ago and to the mountains this past weekend, the nature and I have had a whole lot of time together lately. It's all been very enjoyable because there hasn't been any camping required.
Even though I have a special affinity for large bodies of water and would rather be at the beach than just about anywhere on earth, I really do think my favorite part of the nature has to be the trees. I love them. The contrast of treetops against a bright blue sky just takes my breath away, and if you throw a little bit of a breeze into the mix, I'm a goner. Give me a diet Coke and a comfy chair and I'll watch those trees all the livelong day.
We spent this past weekend in North Carolina, and I can honestly say that I have never been more taken with trees in my whole life. They were so stunning that I actually wanted to call people and tell them about the colors and the branches and the leaves. The leaves are probably a couple of weeks away from their peak color, but it didn't matter to me. It was my first trip through the Blue Ridge Mountains, and I was floored. Smitten, even.
My pictures don't do justice to the spectrum of color – that might have something to do with the fact that I took most of these pictures from the car while we were, you know, driving through the mountains at a relatively high rate of speed. But I really do wish that I could provide some sort of high-definition panoramic view of what we saw for a couple of hours Sunday afternoon, because it was absolutely breathtaking. David said that it was like God reached down from the sky and painted a picture just for us.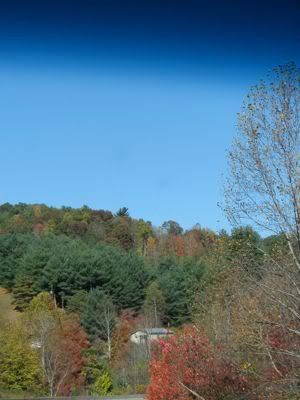 I will never forget that drive as long as I live.
It was so pretty that it almost made me want to hike out in the middle of all that nature and camp. With a tent and everything.
Almost.
I think this article is absolutely fascinating – and a great reminder that parenting demands down-the-road perspective.