So about a month ago my beloved Hoopty Laptop died forever and for good and for real. I know that I've mentioned this about six or four hundred times, but in case you missed the memo, just let me confirm:
HOOPTY IS DEAD.
When Hoopty was still alive and kickin', I had sort of a make-shift office at the bar in our living room, but the beauty of Hoopty was that I could carry her with me to the couch or the guest room or even to the front porch, where I've been known to blog a time or twelve when the boy was playing outside.
Well.
Hoopty's death meant that I switched over to an old desktop that we had in our garage, and we set up the desktop on our dining room table because I kept telling myself that this was all very temporary. That we'd be buying a new Macbook very soon. That I'd be back to the bar in no time at all.
(JUST LIKE MY EARLY TWENTIES!)
(BADA-BING!)
But.
We just can't afford a new computer right now. We may not be able to afford a new computer in 2009. I do have a work-issued laptop that I use for my secret-y part-time job (you know. the one where I design and build all the missiles.), but it's certainly not meant to be my primary computer from home. So since Ye Olde Desktop is going to be my bloggy partner in crime for awhile, my husband suggested that maybe we should turn our playroom into an office for me so that I'd feel a little more settled with this new set-up.
This decision was made all the easier given the fact that the five year-old didn't really use the playroom anymore. As it turns out, he'd much rather stomp and flip and jump in every other part of the house, not to mention that his Star Wars action figures seem to require wide open spaces for maximum battleage.
So, this past Saturday I started the process of cleaning out the playroom. About a third of the toys and books made their way back to the little guy's bedroom, but the rest of the stuff is headed for a local charity. I took a picture before I pulled out the trash bags; keep in mind that you can't see the TV and the three baskets of small toys with pointy edges in these pictures, but you'll get the general idea of "before," at least.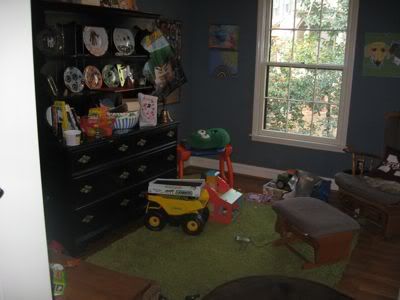 And by Saturday night, I had it looking like this.
I think the vacuum and the overturned stool really add something special, don't you?
Yesterday I set about the business of trying to get the room into some semblance of working order, and since my budget was a lofty sum of zero dollars and zero cents, I had to shop for everything inside my house.
So here's what I did.
About a year and half ago I bought a desk at a thrift store for about ten dollars, not really knowing what I would use it for but figuring it would come in handy one day. I moved that desk in the old playroom / new office, then cleared off the black chest that was already in the room, and I filled it with mementos and pictures and books that make me happy.
Then I moved Alex's playroom bulletin board above the desk, and I covered it with stuff that makes me happy.
Then I found a bunch of artwork that makes me happy (ARE YOU STARTING TO NOTICE A PATTERN?), and I thumbtacked it to the walls because I am very, very fancy.
I guess what I'm saying is that I had absolutely no decorative strategy for the office except that I wanted it to be functional and I wanted it to be filled with colorful things (THAT MAKE ME HAPPY).
In other words: if we can't afford a new computer and I start to feel a little sulky about it (which, honestly, I have), I want to be surrounded by stuff that reminds me HEY WOMAN, GET OVER YOURSELF.
And here's the final-ish result.
And what I didn't think about last night when I was thumbtacking all the stuff to the walls is that I would have some seriously great light in the mornings.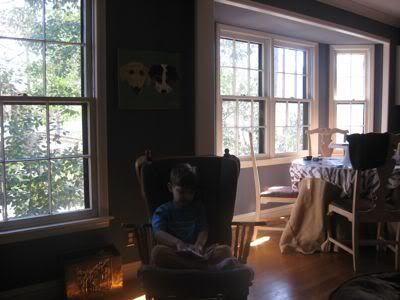 Plus, you know, I get a kick out of the boy sitting in the chair. He's sort of fun and stuff.
I was a little skeptical about whether the whole cleaning out / repurpose-ing process would be worth it, but as I sit here surrounded by so many little things – photos of family and friends, handprints of a mighty sweet five year-old, verses that are speaking to my heart right now, my favorite pens in a handy juice glass – that remind me of the blessings in my life, I can say beyond a shadow of a doubt that it totally was.
I think Hoopty would be delighted.