I knew deep down in my butter-clogged heart of hearts that we would have some mighty fine food while we were at the ranch. So when Ree arrived at The Lodge on Tuesday night with this tray – and about five others – I knew we were in for a treat.
Oh my mercy. Were we ever. Because that's a big bag of avocados, my friends.
Avocados are one of my love languages. Along with tomatoes and black beans and sweet potatoes and steak and do you really want me to finish this list? Because it could take awhile.
So. Here's the skinny about the food (OH, I am loaded with punny lameness today).
Monday night we ate a bunch of appetizers because we had a LOT of TV to watch and a big meal would have taken away from our TV time. And let me just tell you: we did some TALKIN' BACK to the TV. I was especially vocal, mainly because I can't seem to shake the feeling that if I just talk loudly enough, I can convince the people on the screen to listen to me. Please remember that I have never claimed to be rational and/or even remotely normal.
Ree brought us some cream cheese-stuffed jalapeños that were wrapped in bacon, and we WIPED THEM OUT. I think there were two left the next morning. And I think there were zero left after we'd been awake about four minutes. So we had the jalapeños and some really great salsa and tortilla chips and mashed avocado with chopped tomatoes on top and a whole bunch of cheese. It was perfect.
Tuesday at lunch we warmed up a pasta dish that Ree brought us Monday. I don't know if the recipe is on her blog or not, but it was pasta shells, broccoli, asparagus, zucchini and yellow squash COVERED UP with the most delicious white sauce I have ever eaten. Somehow it managed to be hearty and light all at the same time. Shannon and I talked about it the whole time we were eating. And I know that it was totally healthy because hello? Did you see all those vegetables I just mentioned?
Since Melanie and Shannon have already written about Tuesday night's supper, I'll just add this: it was one of the most fun meals of my life – one of those times when the people and the conversation and the food were a happy, happy blend. The only thing that would have made it better is if all of our husbands could have been there. However, Marlboro Man was a mighty good sport to hang in there with us – even though he was outnumbered four to one – and he didn't seem the least bit fazed by the way Mel and I TALK VERY LOUDLY AT THE SAME TIME when we're together.
(By the way, Mel and I met Shannon's hubby for the first time Sunday night, and we were crazy about him, too. The three of us talked about SEC and Big 12 football for about two hours, and I just think that's the most fun – when you meet a friend's husband and think oh, y'all TOTALLY belong together. Makes me love my friends even more when I get to know their sweet husbands.)
(Anyway. Where was I? Something about supper?)
Okay. Pictures. I only have a few because I was very busy with all the eating and all the talking.
This is officially the first time I've posted a picture of a raw slab of beef on my blog, but I just think that when you see butter slathered on top of meat, you need to document it. Treasure the moment. Preserve it forever and always so that future generations can testify to the goodness of butter and beef together. Amen.
Bready bread bread. Filled with all manner of buttery breadish deliciousness.
And here is The Best Corn I Have Ever Eaten In My Whole Life, And That Is Saying Something Because I Have Put Away Some Corn In My Time. I know the picture is blurry. I think it's because my hands were a little shaky in the midst of so much corn-related excitement.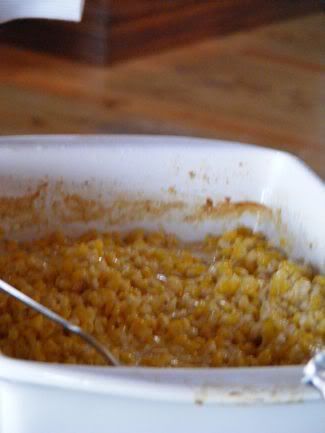 The whole meal was so stinkin' good. And the company was even better. We all had some OPINIONS. OH-PIN-YUNS. So much fun.
And do you know what I really, really miss about The Lodge today now that I'm safe and sound and sitting in my pajamas back home in Alabama? Besides all the fun, funny friends, of course?
This refrigerated drawer.
I really been trying to cut back on my Diet Coke consumption, but every single time we opened this drawer, I could have sworn that I heard angels sing.
Peppy, caffeinated angels.
With cartons of Land O' Lakes butter in their hands.