Last night our little family-o-three went to the Glory Revealed concert, and OH MY MERCY was it ever a fun night-o-worship.
(By the way. When I was around, oh, say, 23-ish, if someone had asked me to make a list of things I was certain – CERTAIN – I would never say, the sentence at the top of this post would have been a solid 3 or 4 on the list. And it probably would've been directly underneath a sentence that said, "I will never join a Baptist church.")
(Oh, sweet irony. You do amuse me.)
We decided to take Alex with us to the concert because he loves music so much, but he wasn't exactly in his finest mood when we got to the church. He was uncharacteristically grumpy and BOUND AND DETERMINED that he wanted to go home. He finally sat back in the pew and looked at some books I had in my purse, but let me tell you: he was one stonefaced little man.
Until the music started.
And as soon as the music started, his eyes got big and he looked up at me and said, "Mama. MAMA! THAT'S 'HOW GREAT!' WE HAVE THAT SONG ON YOUR IPOD!"
It was even better in person.
And by the time intermission rolled around, the boy was back to normal.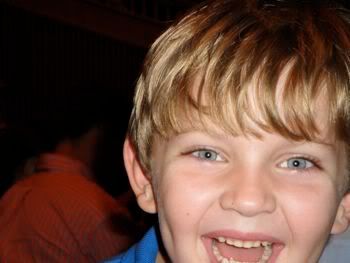 To say the least.
One day last week I read on Twitter that there was going to be a "special guest" at the concert, but I didn't think too much about who it might be since I had other, more pressing issues on my mind like I wonder whatever happened to Judd Nelson? and How will I cope if it turns out that Ole Miss REALLY IS the best football team in the SEC this year? and Do I want to paint our bedroom a blue-green or a green-blue or a gray-green or a green-gray?
Anyway, as it turned out the special guest was Chris Tomlin, and it was such a treat to hear him that I really don't even know what to say about it. So I'll just show you a picture instead.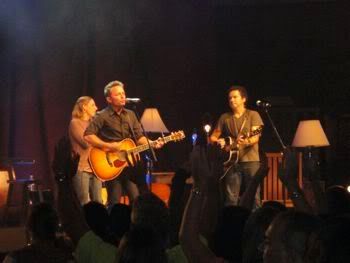 There. I know we all feel better now.
The only negative part of the night was that my husband and I determined that the dry ice that gets pumped out into the audience at concerts seems to give us headaches, and of course that totally made us feel like our names might as well be Mamaw and Papaw. But really, we didn't so much mind the short-term headache because fortunately we don't run across a whole lot of dry ice when we run up to the Cracker Barrel for a quick supper of soft solids at 4:15 in the afternoon.
It's our favorite thing to do after we go walking inside the mall.
Have a great week, y'all!
p.s. I've posted the winner of the Marshalls gift card giveaway; click here to find out who won.