1) Earlier this week I was talking to Melanie about my various and sundry states of blogger's block, and she said, "Hey. I have an idea that sounds like something you'd post."
And I said, "What is it?"
And she said, "Well, since college football season is starting, it might be fun to do a post where people could share their dip recipes. You know, they could…."
"DONE."
And thus the DipTacular was born.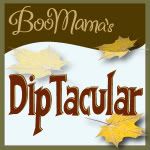 By the way, it's going to be tomorrow.
Which is only a day away.
But think about it. College football season will be in full swing in just a couple of days. TIME IS OF THE ESSENCE. We need dip recipes, people – and we need them quickly.
Here's how it will work: tomorrow morning I'll put up a post with two or three of my favorite dip recipes. At the end of my post there will be a Mr. Linky where you can add a link to your DipTacular post. And if you wrote a post about your favorite dips last Christmas or whenever, then just link to that post – no need to write something new if you already have a post that will work.
Hopefully when it's all said and done we'll have a great collection of dip recipes. I don't know about you, but I'm always looking for more excuses to eat cream cheese.
2) I will listen to this at least 95 times between now and Saturday. Aye, and loudly.
3) Finally, I have two words about the comments y'all left on yesterday's post:
SOLID GOLD.
You will never know how your comments delighted me. OH MY WORD. Y'all are hilarious and clever and stinkin' funny. I don't know when I've ever enjoyed the internet more.
So all that to say: thank you so much. Your comments made my whole day.
Immeasurably more than I could ask or imagine,
S.