Before I say anything else, I have to say this: there's something very comforting about being the company of people who love dips as much as I do. I can't help but feel that we should all stand in a circle and sing songs and then pass around a ginormous bag of Frito Scoops.
Which reminds me.
Our little family rang in the college football season this past weekend in Memphis at my brother's house, where my sister-in-law kicked off the festivities (kicked off? get it? think I'm lame yet?) with some classic Rotel dip. It was so stinkin' good, and at one point I think I actually PICKED UP THE BOWL and scraped around the edge with my chip.
You know how some people can't bear to see a drop of water go to waste? I feel that way about cheese.
It was so fun to be able to watch the Mississippi State game with the family unit. Sister and I yelled like crazy (it is RIGHT and GOOD that we were able to be together for State's first game), and the Bulldogs were victorious. Plus, we had a small staff of people checking the scores of other games during commercial breaks.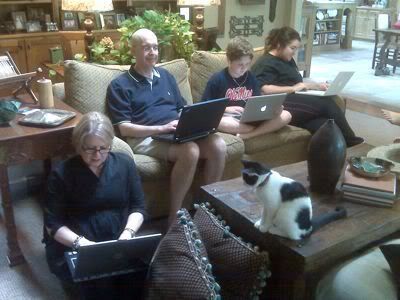 I know. I KNOW. Sister decided that we should call the den "the press box." And don't you think that the cat looks like she wants a laptop of her own? Maybe a tiny little chicken-scented one?
Anyway, considering that the Memphis branch of the family cheers for Ole Miss and the Birmingham and Nashville branches cheer for the Bulldogs, there was potential for a wee bit of SEC tension in the house. But I have to say: we did remarkably well. Even the children had a spirit of cooperation and unity.
Warms the heart, doesn't it?
After the game we went out for a lovely dinner to celebrate Sister's birthday, and LO AND BEHOLD our table was next to a TV that was showing the Alabama / Virginia Tech game. I didn't watch much of it, but just knowing it was there was a soothing balm to my soul. By the time we got home from dinner the LSU game was on, and I actually fell asleep while I was watching the Tigers play.
So, you know, it was pretty much a perfect Saturday.
Now.
Pretend like there's some sort of segue' here.
Sometime in the next couple of days Melanie and I are going to record a podcast. And as many of you know, we like to plan our podcasts several minutes in advance and have been known to record two and sometimes even four podcasts over the course of an entire year. We like to think of ourselves as the semi-annual white sale of podcasting, only without the predictable schedule and high thread counts.
All that to say: if the eight of you who listen have any questions or topics that you'd like for us to answer or address when we record our new podcast this week, feel free to ask away in the comments. And if nobody has questions, that is totally fine. We'll just talk about what we always talk about: college football and TV. And also our hair.
Hope y'all have a great Wednesday!
p.s. I'll post the Christy Nockels giveaway winners later today…I haven't forgotten!