Last night after supper I was sitting in the living room, clicking around on the computer while my husband flipped around on the remote. At some point between shows D stood up to go fix himself a Coke, and as he walked past me, he stopped for just a second and stared.
Trust me when I tell you that he did not stop and stare to meditate upon my loveliness. I was wearing sweats and had my hair pulled back with a clippie. JUST LIKE I LIKE IT.
(Attractive.)
"Is everything okay?" he asked. "I mean, you're sitting in the living room and playing a game on the computer. Why aren't you writing a blog post? Is something wrong? Are you okay? You seem weird."
"I'm caught up."
"Huh?"
"I'm caught up. I've written my blog stuff. Finished my deadline stuff. Answered my email. Cleaned up the kitchen. Clothes are in the dryer. I'm caught up."
And then I sort of stared off into space.
"So, does being caught up make you weird?"
"I THINK IT DOES!"
But then I remembered all the mail that was waiting on me when I got home Sunday afternoon. And I remembered what was in the mail. And I realized that I was missing out on one of my favorite pre-Christmas activities in the whole wide world because YOU CANNOT EVEN IMAGINE HOW HAPPY IT MAKES ME.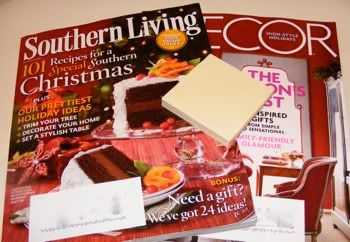 Seriously. Two Christmas magazines and some post-it notes for bookmarks. WHAT'S NOT TO LOVE?
I spent the next couple of hours flipping through the magazines, marking the pages that have recipes or decorating ideas that I want to try this year. And when I was finished – at least with the first read-through – here's what the magazines looked like.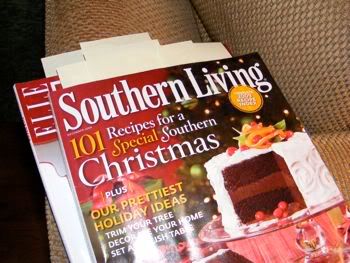 I found some great new recipes to try (that cake on the Southern Living cover is first on the list), and I also found a little inspiration for decorating our front porch.
And don't think for one second that I won't be dragging out some of our Christmas decorations this weekend. Because I TOTALLY AM. Thanksgiving weekend and the first weekend in December are going to be a little cuckoo around here, so Mama needs a jump start. I can't wait!
What about y'all? Any pre-Christmas preparations underway? Found any good ideas in your favorite magazines or on your favorite websites?
I'm all ears.
(Or eyes, as it were.)
(Because I guess I'll be reading as opposed to listening. Since I can't really hear you over the internet.)
(Bye bye.)