So. Are anybody's kids sort of OVER THE TOP CRAZY right now?
We actually celebrated Christmas with David's side of the family today, and at one point I looked up and saw my child doing somersaults in the foyer. It was his preferred method of traveling from one end of the house to the other, NOT THAT HE'S EXCITED OR ANYTHING.
There's also been a whole lot of this in our house today.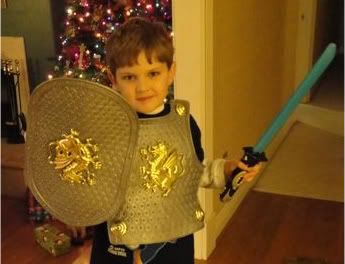 That Batman sword has gone everywhere with us this week, by the way. Grocery stores. Retail establishments. Friends' houses. And wonder of wonders, I have not heard the sound of shattered glass even once. It's a Christmas miracle!
Anyway.
I just wanted to let you know that you still have a few more hours to enter the HP TouchSmart 600 computer giveaway. I'm going to close comments on the giveaway page at 7pm central time tomorrow night, and I'll draw for a winner shortly thereafter. I'll post the name of the winner here, and I'll also send the winner an email. According to the official rules, the winner will have 48 hours to get in touch with me, and if I haven't heard from him/her at that point, then I'll draw for another winner.
(Why do I suddenly feel like a game show host?)
(Have all the doors in my house been replaced with numbered curtains?)
So what does that mean for all of you who entered the giveaway? It means that you probably should check your email on Christmas Eve. It also means that if you're the winner, you need to promptly answer the email from me so that you can claim your fayn-cee prize.
Finally, remember: four other bloggers are giving away an HP TouchSmart, so if you haven't left comments at all of their blogs yet, TIME'S A WASTIN'.
There. I believe that's all.
Merry Christmas Eve Eve, y'all!