This afternoon Alex went to the park with a friend, so I sat down on the couch to write a blog post and promptly fell asleep. FELL ASLEEP. WHILE SITTING ON THE COUCH. I woke up about 40 minutes later after some vivid, technicolor dreams and had no idea where I was or how I got there. But I took advantage of my last few minutes of free time by watching an episode of "Murder, She Wrote" while drinking my prune juice and popping some wheelies in my HoverRound.
Anyway, I cooked supper and cleaned up the kitchen and watched a little election coverage on CNN (remember: I have FoxNews issues. I know many of you think that's unpatriotic, but in my opinion they need to SIMMER DOWN WITH THE GRAPHICS, and yes, I appreciate the irony of my wanting a news organization to tone it down when I am in fact a person who likes to CAPITALIZE A LOT OF WORDS).
So now I'm back on the computer again so that I can finish what I started before I was overcome with a touch of the narcolepsy this afternoon.
You're welcome for all that completely unnecessary backstory, by the way.
About six months ago David decided that he didn't really like chicken anymore. He didn't make a big proclamation or anything, but I noticed that whenever I'd make anything with chicken in it, he'd sort of load up on side dishes and push the chicken-related main course around his plate. Not to mention that the leftovers would sit in our refrigerator until they grew old and lonely and finally hobbled off the shelf in search of a home where they'd be appreciated and lo, even loved. By diggity.
Well. One day I was making a grocery list, and I decided to find out once and for all what was going on with him and poultry. I asked him what he'd like to eat that week, and he rattled off a list that did not include a single item containing chicken – except for Melanie's chicken cakes. So I said, "What's going on with you and chicken? Are y'all on the outs?" And he confessed that he and chicken, they were done. Over. Tarred and – say it with me – FEATHERED.
Now obviously D's anti-chicken stance had an immediate impact on the menu-planning and cooking around our house. But since I don't really love chicken unless it's battered, deep fried and in a box that says POPEYE'S on the side, I realized that I was okay with a chicken hiatus and just needed to figure out more ways to cook beef and pork. On a budget. Without buying steak very much at all ever.
Easy breezy!
At some point I ran across a recipe for flank steak in Cooking Light, and we really liked it, but then our grill quit working and flank steak can be pricey and oh my word am I really devoting this much energy to writing about meat? SWEET MERCY I'M ANCIENT.
Is the HoverRound charged yet? Mamaw here needs to run some errands.
Anyway, here is my current favorite recipe for meat-that's-not-chicken. It's London broil. Alex actually calls it "that good meat you cook, Mama," and whenever I make it he practically claps his hands.
All righty. Cast of characters.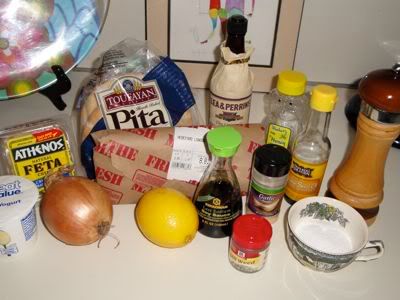 Except that you don't need the little teacup of Kosher salt. I forgot to move it. But since you have soy sauce for your marinade, you're well-covered in the salt department. Just FYI.
(See? I haven't even gotten past the first picture, and I've already failed terribly. I don't know why you people bother with me.)
(By the way: that photograph is STUNNING, isn't it? Notice how you can't really read any of the words on the ingredients. Completely intentional on my part. Along with failing to get all the ingredients within the frame of the picture. Artistic license, you understand.)
(And if you think I managed to capture some sort of step-by-step tutorial on how to make this delicious meal, then clearly you are way overestimating my efficiency and follow-through.)
So. Mix together this stuff.
1/3 cup lite soy sauce
1/4 cup sesame oil
1 tablespoon honey (or brown sugar works great, too)
1 tablespoon Worcestershire
1 teaspoon freshly ground black pepper (we like LOTS of pepper, but by all means stay in your pepper comfort zone)
1 teaspoon garlic powder (or 2 cloves fresh garlic, minced – I was fresh out of fresh garlic – BADABING!)
Mix well. Reserve a couple of tablespoons that you'll use later to cook broccoli. Pour over the London broil in a Ziploc bag, then seal and refrigerate for at least 2 hours. Or overnight. Totally your call.
Now go read some blogs or paint your nails or catch up on the DVR while the marinade does its magic.
After meat has marinated, pull it out of the refrigerator and let it rest on the countertop while you make the yogurt sauce:
1 small container plain yogurt
1/4 cup Feta cheese
2 teaspoons dried dill (1 tablespoon of chopped fresh dill would work great)
fresh lemon juice to taste
1/2 cucumber, peeled, seeded and chopped (if it's in season – cucumbers didn't look great at the store yesterday)
Mix all ingredients in a small bowl (double the recipe if you're cooking for more than 4), and you'll end up with this: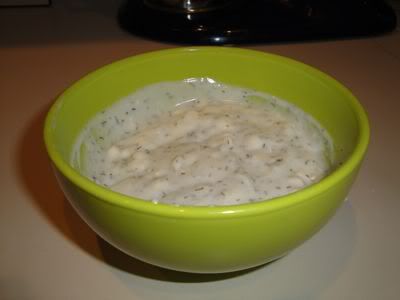 Be still my heart.
Make sure you preheat your oven to 450, then turn on your stove fan and get ready to sizzle.
The London broil I used yesterday was only about a pound and a half, so obviously cooking times will vary a little if yours is bigger or smaller. But using my cast-iron grill skillet, I followed the same basic procedure as Ree's steak how-to: turn up the heat on the stove to medium high, let the skillet get hot, rub some butter on the skillet, then let that meat get good and seared on both sides.
I probably cooked the London broil two minutes on each side (1 minute, rotate 90 degrees, another minute, flip, 1 minute, rotate, another minute, then sling it in the oven).
Once you put the meat in the oven, let it cook on 450 for about 10 minutes or until it's done just like you like it (if it's an extra-thick cut, be careful and check it with a meat thermometer – it will take longer to cook all the way through). Yesterday I wrapped mine in foil after I took it out of the oven so that it would cook a little more without getting dry. Whether you wrap it in foil or not, be sure to let the meat rest about 10 minutes before you slice it.
When you're ready to eat, slice the meat very thinly across the grain (if you slice with the grain, the meat will be chewy). Ours was a perfect medium – our favorite.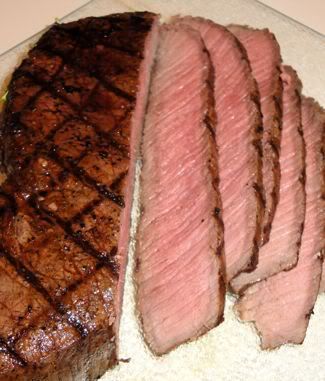 Then I grilled some onions and sauteed some broccoli in those two tablespoons of reserved marinade. We made stuffed pita sandwiches with the meat, broccoli, grilled onions and yogurt sauce, and MY MY MY – so delicious. I also love to do grilled squash for the pitas, but the squash in the store yesterday looked very pale and fragile. So I let them be.
Tonight we used the leftover London broil for fajitas. I grilled more onions, warmed up some tortillas, put some cheese, salsa and sour cream on the table, and we were good to go.
So there you have it. That good meat I cook. It's versatile, tasty and pretty economical considering that we always get several meals out of it.
Okay. I'm all done now. I think you've endured enough at this point.
I'll be sleeping while sitting straight up in my HoverRound if you need to find me.