This is a compensated review by BlogHer and Tropicana.
I haven't bought a new pair of running shoes since 2003.
TWO THOUSAND THREE.
SEVEN YEARS AGO.
And while I'd like to think that I held onto my seven year-old running shoes because of some serious frugality on my part, the fact of the matter is that the shoes sat in my closet for about three years after I bought them. I wasn't exactly, um, inspired when it came to jumping on the post-baby fitness bandwagon.
About four years ago I finally released the shoes from their cardboard cage, and we've had some good times, the shoes and I. We've traveled together, walked all over our neighborhood, played at the park and kicked many a soccer ball. The shoes are understandably exhausted. And given how much I've worn them, I've probably kept them for two years too long. Honestly, I've just had a hard time gearing up to spend the kind of money that a really good pair of shoes requires.
But then.
BUT THEN.
A couple of weeks ago I was looking at the Tropicana Juicy Rewards site, and I noticed that one of the deals available was a discount at the Adidas store – plus free shipping. I did a little research to determine which shoe would be best for what are arguably the highest arches in human history (seriously. they defy all reason.), and a few minutes later, I ordered myself a sassy new pair of kicks.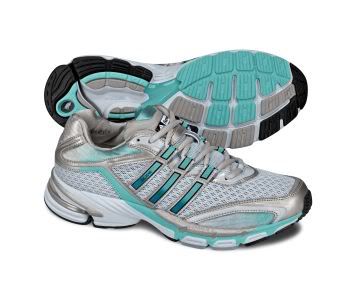 Because I'm kicky like that.
And did you know what I did after that? I thought about how I'll wear my new shoes to kick the soccer ball with my little guy, and that made me think about how my husband and I have never bought portable chairs for soccer games (note: any attempts to follow my disjointed thought patterns could result in serious injury). We're coming up on our fourth soccer season, and we always just lean against a fence or sit on the bleachers and then afterwards we talk about how much our backs hurt. Our oblivion to obvious solutions (BUY SOME CHAIRS, PEOPLE) is sort of endearing, isn't it?
Anyway, I looked on the Tropicana site and saw that Coleman is one of their Rewards partners, and I thought, "OOOH! I bet Coleman makes some good portable chairs. And durable! To withstand lots of camping trips!" And sure enough – I used reward points to get two chairs, a great discount and free shipping. I have no doubt that my back will continue to thank me throughout this spring and many soccer seasons to come.
I'm thinking about getting "Mamaw" and "Papaw" monogrammed on each seat. It only seems fitting, you know?
If you'd like to enter to win a $50 Visa gift card from BlogHer, just leave a comment on this post and tell me what your favorite outdoor activity is. Running? Walking? Pushing your kids in a swing? Sitting on a beach and looking out at the ocean while a private steward serves you all manner of cheese?
Perhaps I'm allowing my personal wishes to infringe on the contest. I do apologize.
And good luck with the giveaway, everybody!
Be sure to visit the other participating bloggers' reviews on the BlogHer.com special offers page (you have seven chances to win!).
If you haven't signed up for Juicy Rewards yet, you can earn a free rewards point after you set up your account. Here's how:
1. Go to http://www.tropicana.com/
2. Set-up your Tropicana Juicy Rewards account
3. Visit the "Enter Codes" page within the site and get started with:
BLOGG-HER11 *
*This one-time use code is valid for new accounts ONLY. Must be entered within 6 hours of creating your account.
You can find more information on the official site, and here's a link to the official rules.
This giveaway is now closed.