Our weekend was filled with all manner of wedding-related fun, mainly because the bride-to-be was Mary Allison, a very special friend who's been a big part of our family's life since, well, she looked like this.
I have such fun memories of Mary Allison and her brother when they were little. I babysat them whenever I was home from college, and they were such sweet children. Now they're all grown up and don't really let me take them to the library or put them in the kiddie pool or feed them pot pies for lunch anymore, but they're still just as sweet as ever. So when Mary Allison got engaged last year and set her wedding date, there was no question where we would be on June 12th. And since every child in our extended family was in the wedding party, it made the day even more special.
The wedding was at Mary Allison's parents' house, which also happens to be where my husband and I had our wedding reception thirteen years ago. Over the last few months Mama has updated me on what Mary Allison's mother, Robbie, has been doing to get ready for the big day, but I don't think anything could have prepared me for how absolutely gorgeous the setting would be.
It was breathtaking, really. Mary Allison and Robbie thought of everything, including monogrammed fans wrapped in coordinating ribbon and a lemonade table at the entrance to the backyard so that guests could enjoy a cool drink after they found their seats. Hydrangeas were in full bloom, pots were overflowing with calladiums, daisies and impatiens, and arrangements of fresh flowers were everywhere.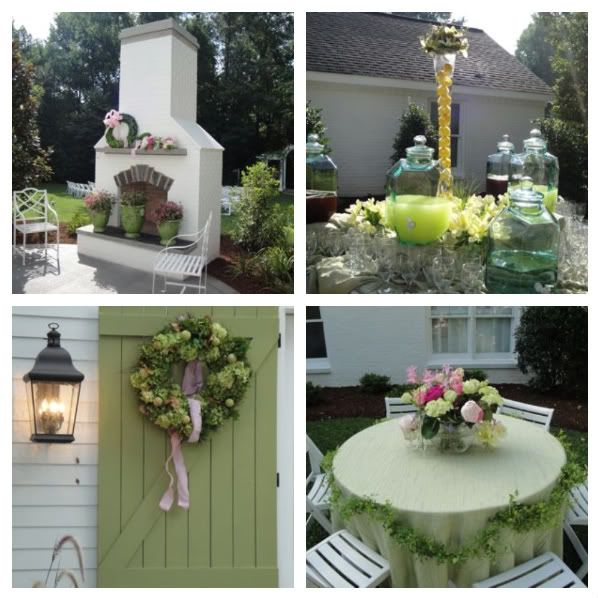 My cousin Benji's daughters were precious as flower girls. Not to mention that the fellas in bow ties – my little man, my nephews, and my cousin Paige's little boy – were so proud to stand with Mary Allison on her big day. They just adore her. And I think that my parents and my aunt were tickled to have all of the grandchildren in one place.
It was a sweltering day – one of the hottest I can remember – but Mary Allison never lost her cool. She was a gracious, beautiful bride.
And we're thrilled for the new Mr. and Mrs. as they start their life together.
Here's to their happily ever after.
Amen.