This is a compensated review by BlogHer and Tropicana.
A couple of weeks ago my friend Melanie and I took our kids to the beach for a few days. We were looking forward to spending a whole lot of time on the beach and in the Gulf, but once the oil spill started moving in in the direction of northwest Florida, we knew we'd better have a little bit of a back-up plan in terms of how we were going to spend our days.
Before we left home we checked the Juicy Rewards site to see if there were any nearby family fun centers/amusement parks where we could entertain the kids in light of bad weather or, you know, OIL. There was actually a really nice arcade/putt-putt/go-kart place just a few miles from our condo, so we redeemed points, printed out coupons, and figured we'd head that way at some point during our beach trip.
We had two great days on the beach, but by the third afternoon, the tar had started to roll in. So the next morning, we grabbed our coupons, sunscreened the kids, and headed out to play a little putt-putt. My expectations weren't very high, but I figured if nothing else our excursion would be good for killing some time.
Much to my surprise, we had a BLAST. We used buy-one-get-one rewards for putt-putt and go-karts, and those rewards made a huge difference in our overall cost. The place where we went was super-nice, really kid-friendly, and a great diversion in the midst of more than a little sadness about what was happening in the Gulf. It was as hot as blue blazes on the putt-putt course, so the air-conditioned arcade (with Icees!) was a balm for our sun-scorched souls. We loved the go-karts for big kids and for little kids, and the bumper boats were the perfect way for the kids to cool off at the end of a long day.
Big fun indeed.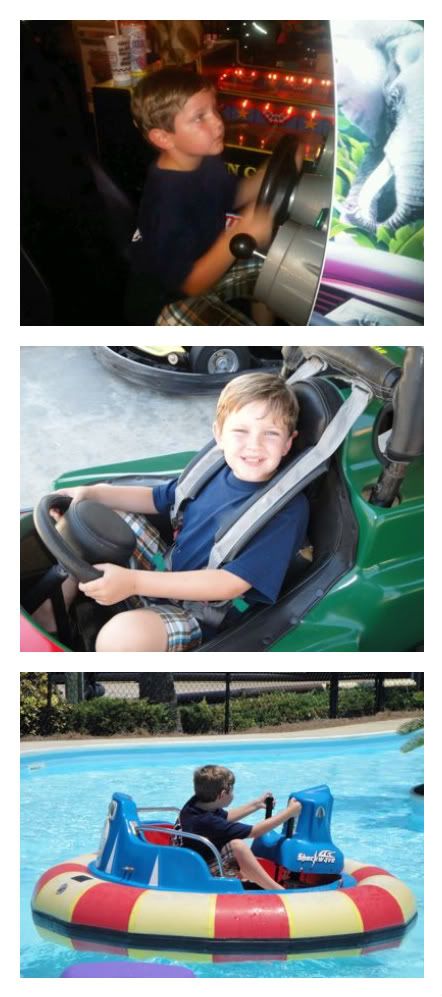 It was such a great way to spend the day with our kids, and Melanie and I were so grateful that we remembered to print off the Juicy Rewards coupons before we left home. The memories we made that day will stick with us for a very long time. Just thinking about it makes my heart smile.
What about you? What's something fun you've done with your family this summer? Tell me about it in the comments, and you'll be entered in a drawing to win a $50 gift card courtesy of BlogHer.
Be sure to visit the other participating bloggers' reviews on the BlogHer.com special offers page (you have seven chances to win!).
If you haven't signed up for Juicy Rewards yet, you can earn a free rewards point after you set up your account. Here's how:
1. Go to http://www.tropicana.com/
2. Set-up your Tropicana Juicy Rewards account
3. Visit the "Enter Codes" page within the site and get started with:
BLOGG-HER11 *
*This one-time use code is valid for new accounts ONLY. Must be entered within 6 hours of creating your account.
You can find more information on the official site, and here's a link to the official rules.
This giveaway is now closed.