This is a sponsored post from BlogHer and McDonald's.
A couple of months ago I got an invitation from McDonald's.
At first I was hoping beyond all hope that the invitation was to be a part of some sort of Double Cheeseburger Taste Test Committee (oh, my love for the Mickey D's double cheeseburger is deep, and it is true), but alas, that was not the case. They were having a Family Time Getaway weekend for some bloggers and their families, and they asked me to be a part of it.
Honestly? I initially had mixed reactions about going. I mean, everybody knows the health concerns that go along with kids and fast food. Everybody knows the health concerns that go along with grown-ups and fast food. And I wasn't really that interested in dragging my family all the way to Chicago so that I could be a part of what I assumed would be a never-ending focus group. But in the end, my relational side won out. There would be new and interesting people there (I am, as a general rule, a sucker for people), and I'd get to travel to one of my favorite cities with my husband and my son.
As it turned out, it was an absolutely delightful trip. The McDonald's folks did have some meetings and activities set up for us, but they also gave us time to just hang out and be a family. I can't even tell you how great that was. In fact, the second day we were there they planned a scavenger hunt on the grounds of the hotel, and our little family of three had the best time. The weather was absolutely gorgeous (I did not get the impressions that Chicagoans are, as a rule, familiar with the same level of humidity that we experience here in the Deep South), and I loved being able to "help" my fellas find the objects on the list while I took lots of pictures of trees.
Trees are my favorite, you know.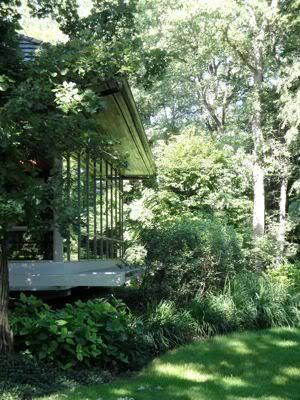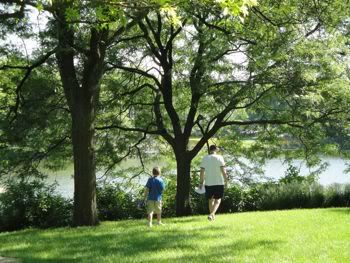 It was also great to get some behind-the-scenes perspective from the McDonald's folks. They were candid, open, warm – and absolutely no topic was off limits. The scope of what they do is absolutely mind-boggling, and they are so passionate about it. What surprised me the most – and I don't mean to sound like I was Sally Cynical before we met with them, but maybe I was just a little bit – is how much they genuinely care about the kids that they serve and how deeply committed they are to being a help to parents in terms of providing a nutritious alternative to a home-cooked meal (notice that I said alternative – I didn't hear anybody at McDonald's headquarters advocating feeding kids fast food five days a week, and I think we can all agree that children need variety in their diets and need to be exposed to a wide range of foods). They would be the first to tell you that they're not perfect, but they would also tell you – and I would agree – that they're working hard every single day to get better. As a mama, it was so encouraging to see that side of things.
And as for the Double Cheeseburger Taste Testing, I'm sad to say that it didn't happen. We did get to sample the oatmeal that they're testing (it was loaded with fruit, and I was an immediate fan) as well as Egg McMuffins (seriously? did y'all know that they're made with real eggs? that can be cooked however you'd like them? I HAD NO IDEA). My little man was so taken with the Egg McMuffin that he raised his hand and said, "THIS IS THE MOST DELICIOUS EGG MCMUFFIN THAT I HAVE EVER HAD!"
It was also the first Egg McMuffin he'd ever had. But I think we all know that he's never really been lacking in enthusiasm.
But here was the biggest thing with me, and it had absolutely nothing to do with the food. The day we were scheduled to leave Chicago, a huge thunderstorm rolled into town. We were waiting in the hotel lobby for our ride to the airport, and all the McDonald's folks were gone (it was late in the afternoon, and our last official activity that day was at lunch). I was just about to check our flight status on the computer in the lobby, and two of the girls who work with McDonald's – Heather and Maggie – came running through the lobby doors.
One of them rushed up to me and said, "Are you okay? Is your flight delayed? We were almost home, but when we saw how bad the weather was we thought we'd better come back and check on you!"
Sure enough, our flight was delayed – then cancelled altogether – and they spent the next three hours working to get us home. We ended up having to stay an extra night at the hotel, and they took such unbelievably good care of us. I will never forget how they went out of their way to do that, and it spoke volumes to me about the way McDonald's does business.
So.
I'm tickled that I get to give away a McDonald's Family Prize Pack in conjunction with the "Family Time, Happy Time" program. The prize pack includes McDonald's and AMC gift cards, games, a fleece blanket and other items that are perfect for a fun outing with your family, and the retail value is $100. So if you'd like to be entered to win, all you have to do is answer this question:
What's your absolute favorite meal to eat for family dinner? Is it something you get from a restaurant? Or is it more of a home-cooked affair?
By the way, our favorite family dinner is country fried steak, mashed potatoes, butterbeans, rolls and homemade chocolate pudding.
We're terribly sophisticated.
In all seriousness, be sure to visit the other bloggers who are participating in this giveaway (they're listed over on the BlogHer.com special offers page. And by all means feel free to check out the official rules. This sweepstakes runs from 7/27 until 8/10.
Good luck, everybody – and if you have any questions about what we did or what I learned on the trip, feel free to ask. I'll do my best to answer!
This giveaway is now closed.