No matter how much I vow and declare that our summers are going to be laid back and calm, by the time July rolls around we have turned into the Clampetts. That is not to say that we have loaded up the car and moved to Beverly (Hills, that is), but we are definitely spend our fair share of time on the road. This probably has something to do with the fact that I have never met a road trip that I didn't just love to pieces, so when we're not on a schedule, I'm ready to fill 'er up and hit the highway.
This week, however, the road trip came to us. My cousin Paige brought her little boy to our house Saturday afternoon so that he could spend a few days at what we like to call Cousin Camp. We started this tradition a couple of years ago – when Paige was under the weather and J stayed with us for about a week – and it's become one of our favorite parts of summer.
We've had a great time so far, even if I've had to ask the boys to slow down a time or forty because MAMAW CAN'T MOVE SO FAST ON HER BUSTED ANKLE. The good news, however, is that the pool has been the great equalizer. Because do you know who's still the fastest one in the pool? ME. And that is why we stayed in the pool for approximately three hours today, only pausing to reapply sunscreen and eat a quick lunch at the snack bar.
By the way, today at lunch I ordered sandwiches for the boys and a salad for me, and when I picked up our food a few minutes later, I didn't see a fork on my tray. So I asked for a fork, and one of the girls behind the counter smiled and said, "Um? We're out of forks?"
And I said, "You're out of forks?"
And she said, "Yeah?"
And so I ate my salad with a plastic spoon.
For some reason that makes me very tickled.
Anyway, the cousins had a most excellent day of swimming, and Alex continued to show his strong and unwavering allegiance to goggles.
The child loves him some goggles. He even wears them when he jumps off the diving board. It makes me so happy.
After we wrapped up our pool time, we came home and had some book time. There was also some light saber battle time, but I didn't get any pictures of that because I was afeared of getting in the middle of the light saber action. MY ANKLE, you know.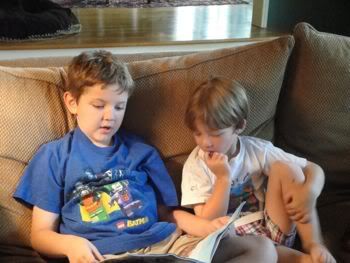 Now that I think about it, maybe it would be wise and prudent to milk the "my ankle" excuse as much as I can over the next couple of weeks.
I'm just as sorry as I can be that I wasn't able to fold all that laundry. MY ANKLE, you know.
Well, I had no choice but to watch fourteen episodes of "House Hunters" in a row. MY ANKLE, you know.
Oh, of course I'll have that extra piece of chocolate pie. MY ANKLE, you know.
I think this idea has some real promise!
I'll be certain to keep you posted on my progress.