– Remember these shoes? The ones I wanted earlier in this summer but felt some strange hesitation about buying?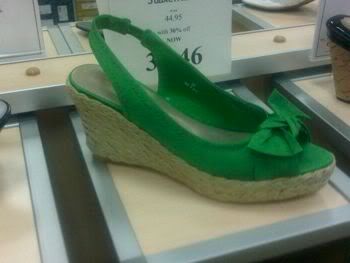 Well, I bought them on sale Saturday.
FOR TWELVE DOLLARS.
Afterwards I told Melanie that I believed that the reason I experienced such unwavering patience for these shoes is because the Lord knew that I was going to have a wedge-prohibitive foot injury in mid-July and wouldn't be back in wedge-wearing shape until late-August.
He's the God of second shoe chances.
– We went to our first high school football game of the season this past Friday night. Fall is coming, and summer can't stop it.
– Yesterday after church we decided to go to Chuy's for lunch. We knew that TIME WAS OF THE ESSENCE because there's a big Presbyterian church that's closer to Chuy's than our big Baptist church, and everybody knows that the whole point of Sunday lunch is to squeal into a restaurant parking lot on two wheels so that you can beat the crowd from a neighboring congregation.
No kidding: at the Methodist church where D and I grew up, people would look at their watches and clear their throats if the sermon ran past 11:55, especially if they started hearing car doors slam at the Baptist church across the street.
Anyway, we went to Chuy's – even made it there before a few of the Presbyterians – and while it seemed to take awhile for someone to get our drink orders, we figured maybe the sudden onslaught of hungry churchgoers had thrown the waiters and waitresses off of their serving game.
Finally a waitress took our order – and we waited. And waited. And waited. Our waitress couldn't seem to explain what was taking so long. FORTY MINUTES LATER we still didn't have food. So I found a manager and told him what was going on. He was very kind and accommodating, solved the problem for us, and when we got our check at the end of the meal, it looked like this.
They charged us a penny so that we'd have an open ticket if we wanted to leave a tip. Which we did because I felt badly for our waitress even though it was her fault that we hadn't gotten our food. But she was young. And it was really crowded. And I'm deeply co-dependent when it comes to these sorts of things.
By the way, I got the chile rellenos with chicken and cheese. They were spectacular. Our child got chicken nuggets and macaroni and cheese AGAIN, but he vows and declares that the mac and cheese is delicious. And D and I split the tres leches cake and died.
– After lunch we ran over to Old Navy because there's a certain seven year-old in this house who needs some pants that don't put his ankles on display (GROWING LIKE A WEED, HE IS). I found what I was looking for in about two minutes, and as I was walking toward the cash register, something very, very special caught my eye.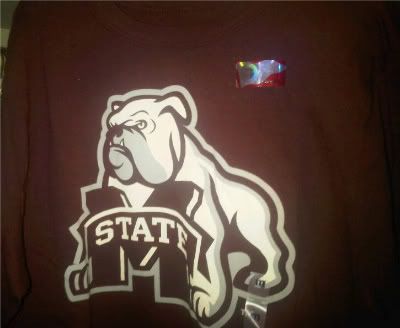 An MSU t-shirt. Youth medium. Right here in the land of the Tigers and the Tide. It's an SEC pre-season miracle.
– I adored the "Born To Run" opening number at the Emmys. And then I fast-forwarded through the rest of the show and felt a deep and lasting gratitude to the inventor of the DVR.
– SEC football starts in five days. College football starts in three.
MY JOY KNOWS NO BOUNDS.
And I believe it's time to consult the DipTacular so that I can solidify my gameday dip options.
Go 'Dogs.