This is sponsored content by BlogHer and Kellogg's.
It always starts around mid-July. Always. And it seems like there's nothing I can do to shake it.
Nothing.
Now contrary to what you might think, I'm actually not talking about Alabama's stifling summer humidity, though that definitely kicks in full-force in July and makes me long to live atop an ice block on a planet called Cold.
But the real reason for my summertime apprehension is that mid-July brings on the first feelings of dread about our back-to-school schedule. Granted, in mid-July the prospect of having to wake up early is more than a month away, but please understand that one of my most favorite pastimes is to obsess about things over which I have no control. It's sort of like a hobby, only without any of the fun or tangible rewards.
Despite my fretting, I'm usually pleasantly surprised by how easily we transition back into our school schedule. We try to gradually work our way back to a school night bedtime over the course of a week or so, and by the time school starts, we're typically in a pretty good place.
I wish I'd known to dial back the bedtime gradually when I was in high school, because back then my idea of transitioning into a school schedule was to go to bed five hours earlier than normal the night before school started and then toss and turn while I wondered, WHY, WHY CAN'T I SLEEP, WHY, I DON'T UNDERSTAND.
In addition to our sleep adjustments, we do something else to make the back-to-school transition fun: SPECIAL TRADITIONS. That means that the back-to-school breakfast is absolutely and totally our little boy's choice – whether that be grits or bacon or a favorite cereal or a peanut butter sandwich. It also means that when the first day of school is over, we're going to meet some of our favorite friends and do something fun to celebrate.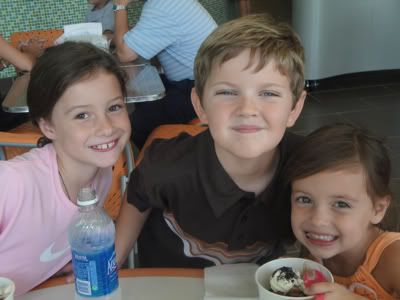 This year it was a trip to a local yogurt place. And the kids had a blast.
In fact, by the time we got home that day, I was ready to wake up early all over again. As much as I dread being tied to a schedule during the summer, the predictability of our days becomes sort of oddly comforting once it's school time again.
So what about you? What's something fun you do to help your little one(s) get back in the swing of a school schedule? Leave a comment with your answer, and you'll be entered to win a $100 Visa gift card (and come back next week to enter again – because these giveaways will continue for the next 6 weeks).
And be sure to visit the BlogHer.com Kellogg exclusive offers page – you have 24 other chances to win $100 every single week that this program is running!
Mom's Breakfast Club was started to help educate moms and families about kids' cereal and share the scoop on their nutritional benefits and ingredients. To learn more about the program, visit www.loveyourcereal.com.
This giveaway is now closed.