This is a sponsored review from BlogHer and Seattle's Best.
When I was a little girl I pretty much assumed that all coffee tasted the same. Oh, I have vivid memories of being in a restaurant with my parents and hearing my mama say something along the lines of "This is THE BEST cup of coffee!" – but I guess I just assumed that the coffee was extra hot or the perfect ending to a good meal. The coffee grounds, I thought, were all the same.
But now that I'm a little older, I know better. I've tried countless brands and blends of coffee over the years, and each one is distinctive. Granted, some are distinctive for not-so-good reasons (like, for example, the fact that they're sort of tasteless, but for most part the distinctions are enjoyable ones: more acidic, more chocolate-y, more nutty, more robust, more smooth, etc.
Given all that, I was beside myself when I found out that I was going to get to taste test the five levels of Seattle's Best Coffee as part of this giveaway. I mean, I know some people are big on fine foods and wines and pairings and whathaveyou, but not me. Not my husband, either. We're coffee people. And we talk about our coffee the way some people would talk about their favorite wine. It took us years to find a brand and flavor of coffee beans that we could brew consistently well at home, and we don't mess around. Honestly, I hate to say it, but I think the term "coffee snobs" might very well apply to us.
I'm not proud, people. I'm not proud.
So. All that being said, here are my reactions to each level of Seattle's Best Coffee. No candy-coating. In every instance I used a full sample pack of coffee to 8 cups of cold water, and I brewed each pot in my coffee maker at home. And I don't even know why I said that because what, WHAT IS THE ALTERNATIVE? THE COFFEE MAKER IN MY CAR?
Level 1 – I was skeptical before I tried this blend because I like really robust coffee, and my assumption was that it would be weak. Actually, though, it wasn't weak at all – it was just mild. It would be a great coffee with a citrus-y dessert like Key Lime Pie, and I know beyond a shadow of a doubt that my mama would adore this coffee. In fact, I will probably keep some on hand for when she visits. It's light, bright and has no aftertaste. Very clean.
Level 2 – This blend would be my mama's idea of "strong coffee," but for me it's a little too light to wake me up in the mornings. I'd definitely serve it with dessert, though – especially with something that's good and chocolately (there's a very appealing hint of chocolate in this blend). Interestingly enough, I'd probably enjoy the Level 2 best by drinking it black, so it'll be a good go-to if I'm feeling kicky and adventurous in terms of abandoning my sweetener and half & half.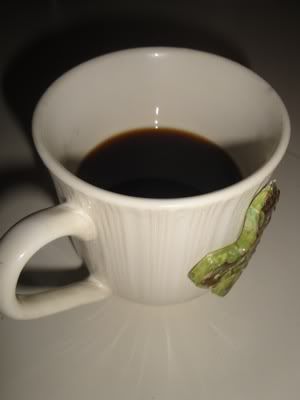 A cup of Level 2 without any sweetener or cream. LIVING ON THE EDGE, I AM.
Level 3 – I thought this blend might end up being my perfect dessert coffee since it's medium-bodied and a good bit stronger than Level 1. But I actually liked Levels 1 & 2 better. Level 3, for me, couldn't decide what it wanted to be. It started off with a rich flavor but finished weak – and the pot I made had a weird aftertaste (could have been the way my sweetener and half & half interacted with the blend). My husband agreed with me. Not our favorite.
Level 4 – This is a tasty early-morning coffee – it's bold but not too strong, and it smells absolutely delicious when you pour it in your mug. I really enjoyed the taste of this blend on the front end, but it didn't finish strong enough for me on the back end (hi, I'm Sophie, and apparently I fancy myself a coffee sommelier). I thought it had a little bit of an aftertaste, and that's probably because the taste sort of gently faded away (as opposed to Level 5, which sort of comes in for a second wave at the end). This blend has a strong chocolate flavor, though, and that's always a plus with me.
Level 5 – I made a pot of this blend early in the morning, and it was the perfect way to start the day. It was robust, hearty, rich – and it smelled fantastic. Before I tasted the coffees I guessed that I would be Level 5, and I was right. It's strong, and it's delicious. It has such a full, round flavor, and of all the blends, this one is the most likely to make its way into our daily routine. Loved it.
All righty. Your turn.
If you had to guess, what level of Seattle's Best Coffee do you think you'd prefer? Leave a comment with your answer, and you'll be entered to win a $100 Amazon gift card.
This giveaway will run from 4/18/11 – 4/30/11. If you'd like more chances to win through other participating blogs, please visit the Exclusive Offers section on BlogHer.com.
No duplicate comments.
You may receive (2) total entries by selecting from the following entry
methods:
a) Leave a comment in response to the sweepstakes prompt on this post
b) Tweet about this promotion and leave the URL to that tweet in a comment
on this post
c) Blog about this promotion and leave the URL to that post in a comment on
this post
d) For those with no Twitter or blog, read the official rules to learn about
an alternate form of entry.
This giveaway is open to US Residents age 18 or older
Winners will be selected via random draw, and will be notified by e-mail.
You have 72 hours to get back to me, otherwise a new winner will be
selected.
The Official Rules are available here.