I don't know about y'all, but we are dragging around here in terms of our usual rise and shine routine. We have been waking up later and later over the last few weeks, and this morning, when I threw three pairs of pants in the dryer and figured I'd wear whichever pair got the most dry the quickest (read: being completely dry was in no way a requirement in order for the pants to be worn), I knew that I'd hit a new low in terms of being ready to face the day.
Come quickly, sweet summer. Come quickly.
Earlier this week one of the room moms for A's class sent an email reminder that our scrapbook pages for his teacher's end-of-year scrapbook gift were due today. I had a vague recollection of seeing the blank scrapbook page in an envelope in the little man's bookbag, and I knew that I'd taken it out of the bag and added it to a stack of school-related papers on the kitchen desk. But honestly, my reaction when I first saw that scrapbook page was basically the same as it would've been if you put a small motor engine in front of me and then handed me a set of tools.
(That is to say: I'm not exactly sure how to complete the task that's been set before me, so this is probably an excellent opportunity to MANAGE EXPECTATIONS.)
(After all, let us not forget The Unfortunate Capelet Incident of 2010.)
So Monday afternoon, I found myself sitting in front of my computer, looking at my email, wondering how in the sam hill I was going to put together some sort of end-of-year scrapbooking page without losing my mind.
Because I'm not sure if you've picked up on this or not, but CRAFTY THINGS MAKE ME CRAZY.
And please don't misunderstand: I adore A's teacher. He has had an absolutely incredible year with her, and we are way beyond grateful. She's one of those people who was clearly born to work with young kids; she's patient and encouraging and diligent and thoughtful.
So given all of that, I really wanted to do a good job with the scrapbook page. I thought the room moms' idea of putting together a scrapbook was a great one – because it's such a tangible way for Miss S to know how much we love and appreciate her.
But oh. Mama's skills, they are LIMITED.
Wednesday night I finally decided that I could at least get started by uploading some pictures to Walgreens. I didn't really know what I was going to do with the pictures, but I figured maybe I could make a "collage" and maybe use some "markers" and some "stickers" and maybe even some "ribbon." Then I broke out in a cold sweat and decided that THERE HAD TO BE A BETTER WAY, THERE MUST BE.
I was just about to finish my picture order when I saw a little box over to the side that said something to the effect that I could order a collage of my prints for $3.99. And y'all, it was like a lightbulb went off in my head: I COULD ORDER A COLLAGE AND TAPE THAT TO THE SCRAPBOOK PAPER AND GET ALEX TO WRITE A NOTE TO HIS TEACHER AND OH MY WORD THERE WOULD BE NO NEED FOR RIBBON.
THERE WOULD BE NO NEED FOR RIBBON!
(!!!)
So that's exactly what I did. I ordered a collage. I very carefully taped it to the scrapbook paper (and don't tell, but even though I tried to get it straight three times, it's still a little crooked, and clearly I am useless at any activity that requires any sort of precision). Alex wrote a note to his teacher at the top of the page. And I did not in fact have a nervous breakdown.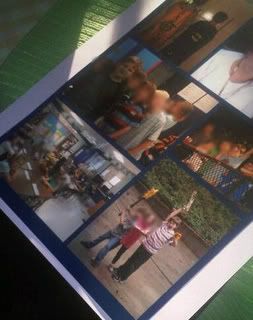 Score one for technology. In fact, I'll never be able to thank technology enough for making it possible for me to avoid that sticker aisle at Michael's.
Hallelujah and amen.