Over the last eight years of motherhood I've developed a pretty extensive mental list of things I want to pass down to our little guy. The list runs the gamut from the serious (love for God, love for people) to the silly (don't talk during movies, avoid the salad bar at That Certain Restaurant at all costs).
This summer, for example, we've been paying extra attention to manners – holding the door open for people, looking someone in the eye and saying "nice to meet you" – and we've also been paying extra attention to the various sound effects you can make with a mouth full of Pop Rocks as well as the fine art of enjoying The Andy Griffith Show. It's important for a child to understand his heritage, you know?
A few days ago I was running some errands, trying to figure out if an impromptu stop at Home Goods was worth it considering that it's approximately 463 degrees in most parking lots right now. I decided to give it a go, and while I don't really know what series of mental gymnastics my brain executed at that moment, I do know that as I turned into my parking space I remembered – for the first time in a sweet forever – how much I used to love Ruffles potato chips and French onion dip when I was a kid.
And if you're wondering what in the sam hill Home Goods has to do with French onion dip, THAT MAKES TWO OF US.
Anyway, I spent a substantial portion of my Home Goods trip thinking about THE BEST SNACK EVER, and it occurred to me that our little guy had never tried the Ruffles / French onion dip combo. I knew way deep down in my dip-clogged heart that I needed to remedy that situation ASAP.
I mean, it's the Southern appetizer of the 70s, after all. Children need to know these things.
After Home Goods I ran over to the Walmart to pick up some groceries, and BY DIGGITY I made sure to get a bag of original Ruffles as well as a container of Barber's Party Dip. When I was growing up we bought Borden's French Onion dip – I can picture the writing on the label just as clear as day – but Barber's is the brand we have here in Alabama. AND IT IS TASTY.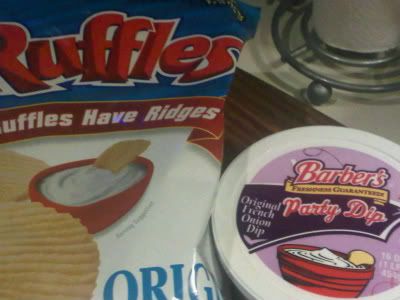 Later that afternoon I called Alex to the kitchen.
"Buddy," I said, "this was my FAVORITE snack when I was your age. And I thought you might like it, too."
I opened the Ruffles, opened the dip, and then I handed him a chip.
"Go ahead!" I urged. "Try it!"
Granted, I was a smidge overenthusiastic, but it was an exciting moment, people.
He took a bite, and his nose crinkled a little. He started shaking his head back and forth, but then he stopped, like he needed to think. I leaned forward just a tiny bit, anticipating what his response would be. He stared off into space for a few seconds, and then he looked my way and said, "Um. It's okay."
Okay. Okay. THE RUFFLES AND FRENCH ONION DIP ARE JUST OKAY?
Motherhood can be grueling, y'all.
I could tell that the combo wasn't his favorite, but he was trying to be a good sport. So I grinned and said, "Do you want to take another bite? Want to try it again?"
The little man's eyes lit up, and he said, "I know! You get a chip and some dip – and let's take a bite at the same time. It'll be a memory!"
So we did.
And do you know what?
It was.
What's something fun from your childhood that you've shared with your young'uns lately?