Today is Martha's birthday, so we celebrated at a luncheon with about 20 of her nearest and dearest.
And instead of getting Martha a corsage, we decided to get her a little nosegay. You know, so she could hold it when she had her picture made.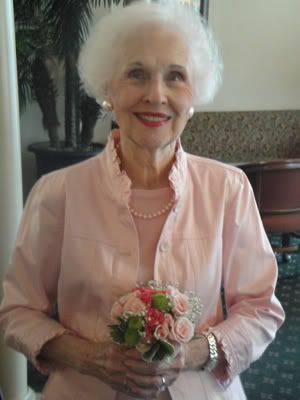 I think she liked it just a little bit.
And yes, that's a new pink jacket she's wearing.
It has a long sleeve. A long sleeve! Not a three-quarter sleeve! A long sleeve!
It's not a pinky-pink! Or a hot pink! It's more of a rosebud pink! Sort of like a rosebud!
It really has been such a sweet day. So good to be with family, so heartwarming to see Martha with her friends.
Happy Birthday, Martha – we hope this next year is your happiest yet!