We are on day four – no, five – of our cousins' beach trip, and I am happy to say that it has been delightful. There have been a couple of minor conflicts and a small number of minor injuries (boys like to run. everywhere.), but by and large it's been great. And as an added bonus, I was able to watch the season finale of The Bachelorette with my aunt and my cousin Paige. WE HAD SOME THOUGHTS ABOUT SOME THINGS.
Yesterday, in the interest of a change-o-pace, we went to a putt-putt place for a couple of hours. I didn't really think about the weather before we left, but once we had secured our putters and golf balls, there was no avoiding the fact that OH SWEET MERCY IT WAS 408 DEGREES OUTSIDE. At one point I saw sweat rolling down the top of my arm, and I spent several minutes trying to figure out how in the world that even happens. The kids were gamers but started to wilt a little bit by the 10th hole, and by the 14th hole I was wondering if anyone has ever collapsed from heat exhaustion ON A PUTT-PUTT COURSE.
I think this picture offers an excellent illustration of yesterday's level of heat and humidity.
Yes ma'am. It was REFRESHING outside.
After we finished all 18 holes in the putt-putt sauna, we limped into the arcade and ordered the largest Icees available. The kids cooled off, grabbed some quarters, and pretty much hollered like crazy for the next hour or so. My child never took off his hat, and that's why I have lots of pictures of him and his cousin J that look like this.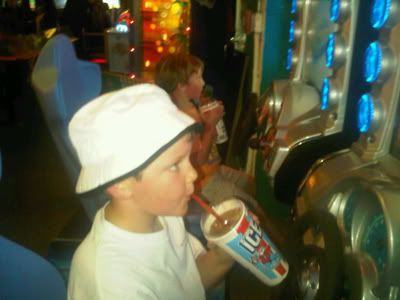 No kidding: every single time I see the two of them together, I think, Well, there's Papaw and Scooter McGee.
So that's pretty much it from our end of things. Lots of heat, lots of swimming, some occasional crying, and lots of laughing.
And it is good.