I don't really have a lot of exciting news to report, but since that's never stopped me before, I figured I'd update Ye Olde Blog before I go to bed.
So. I cooked some fish for supper tonight.
Love,
Me
In all seriousness, I've been having a hard time getting into a post-Ecuador groove. I've been plenty busy with family and work and errands and whatnot, and I've also been doing some pretty impressive sleeping (some of my best ever, in fact), but I'm still just a little bit unsettled in a way I can't exactly explain. It's almost like a little piece of my heart is still a few thousand miles away (totally estimating on that mileage thing, by the way – I'm not very strong with the geography). It's not really a sadness – it's just that I miss it. I'm so grateful that I had the opportunity to go.
So there's that.
In other delightful developments, I seem to have caught a cold at some point during All The Traveling. I started sneezing Monday afternoon, and by Tuesday morning I was wondering if I'd ever breathe through my nose again. You may have noticed that I'm not at all melodramatic when it comes to something as run-of-the-mill as THE COMMON COLD.
Have mercy. Sometimes I WEAR MYSELF OUT.
Anyway, today was much better on the cold front (as long as you're not counting the part where it rained all morning and I was having a terrible hair day and I wasn't home so I didn't have a brush and my cowlick decided to overtake the whole right side of my forehead and CLEARLY I AM BACK IN THE SWING OF DOCUMENTING MY MANY FIRST WORLD PROBLEMS), but this afternoon I realized that I needed another box of tissue. At this point, by the way, I'm guessing that there are two or maybe even four of you still reading, and if that is the case, then I would just like to say KUDOOZ TO YOU (if you get that reference, then I may have to send you some sort of prize).
Anyway, I ran to the Walgreens to grab a box of tissues, and I made a discovery that may very well change the course of my entire life or, at the very least, the course of the next 3-4 days.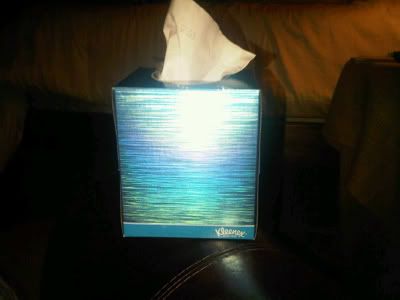 They're Kleenex Cool Touch tissues.
HAVE Y'ALL TRIED THESE?
Oh my word.
I don't know how in the world the Kleenex people put the cool touch magic in these tissues, but they are A REFRESHING TREASURE. They actually feel cool against your face – almost like you've just pulled a box of tissues out of the freezer (which, you know, I'm sure lots of us do on a daily basis). I'm normally not overly picky about my tissues, but after finding myself in need of a tissue on approximately 251 different occasions today (just a rough estimation, of course), the Cool Touch Kleenex have provided some sweet relief over the last few hours.
So that's pretty much all that's new with me: a hard-to-define restlessness, a cold, and some really good tissues.
What's new with you?